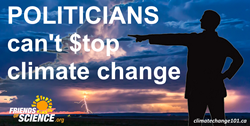 The world is facing a food, fuel, fertilizer energy crisis that will lead to famine in many countries. Now is not the time to embark on wasteful climate change policies based on ideology.
CALGARY, Alberta (PRWEB) August 04, 2022
As reported by Science Insider on Aug. 1, 2022, the US has embarked on efforts to pass a $369 billion dollar climate plan, but they will be met with Speed Bumps on the Road to Decarbonization, and Hazards Ahead, says Friends of Science Society. The impossibility of attaining most climate and 'transition' goals, especially in the short term, are clearly outlined in these Robert Lyman summary reports of a pragmatic JP Morgan analysis. Proponents claim the surprise bill will meet the ambitious goal of a 40% reduction in emissions, noting that 'more action' is needed to meet the goal of cutting emissions in half by 2030.
There is no need for drastic action says Friends of Science. The fear of a climate catastrophe due to rising carbon dioxide levels is debunked by the work of Dr. Roy Spencer, NASA award-winning scientist.
In Dr. Roy Spencer's "Updated Carbon dioxide (CO2) Concentration Forecast through 2050 and Beyond" he writes: "The simple CO2 budget model I introduced in 2019 is updated with the latest Mauna Loa measurements of atmospheric CO2 and with new Energy Information Administration estimates of global CO2 emissions through 2050. The model suggests that atmospheric CO2 will barely double pre-industrial levels by 2100, with a total radiative forcing of the climate system well below the most extreme scenario (RCP8.5) used in alarmist literature (and the U.S. national climate assessment), with the closest match to RCP4.5."
Spencer's findings parallel different but related work of Roger Pielke, Jr. and Justin Ritchie on the misuse of RCP climate scenarios.
Contrary to a report in The Guardian of July 30, 2022, claiming that "soon the earth could be unrecognizable," citing Bill McGuire's new book, "Hothouse Earth: An Inhabitant's Guide", Friends of Science Society says the book makes unreferenced climate catastrophe claims and is favorably reviewed by Extinction Rebellion, hardly a reputable scientific source.
McGuire's "Hothouse Earth" curiously lacks any substantial references to support the fearful claims made throughout, and in terms of timing, like many 'hothouse' works, it reaches the public during a time of summer heat waves around the globe as reported by ABC on July 19, 2022. Human beings are highly suggestible and often assume extreme weather events are driven by human-caused climate change. That's not what the evidence shows.
Likewise, the PNAS "Perspectives" paper published March 25, 2022, explores the "Climate Endgame" of worst-case scenarios claiming "Despite 30 y of efforts and some progress under the United Nations Framework Convention on Climate Change (UNFCCC) anthropogenic greenhouse gas (GHG) emissions continue to increase. Even without considering worst-case climate responses, the current trajectory puts the world on track for a temperature rise between 2.1 °C and 3.9 °C by 2100 (11)…"
Spencer's work effectively dismisses these claims.
Energy economist Robert Lyman foretold in his 2020 report "When Climate Prophecy Fails," "When reality fails to match prophecy, those who follow climate and energy policy developments closely will see the rationale for drastic transition crumble."
As reported by True North Centre on April 5, 2022, Canadian politician Environment Minister Steven Guilbeault claimed that 'climate change is killing people', referring to last year's deadly 'heat dome' that gripped the Pacific Northwest, thus justifying multi-billion-dollar green schemes to 'stop climate change' and phase out fossil fuels. On a total country basis, cold-related deaths exceeded heat-related deaths by a factor of 10.8 in 1990, and 9.1 in 2019 according to [this study of 65 million deaths. Therefore, warming will cause a significant decrease in net temperature related deaths.
Belgian researchers Jean van Vliet and Brigitte van Vliet-Lanoë have demonstrated that the extreme heat and ensuing massive wildfires in British Columbia in late June of 2021 were the result of a Mobile Polar Anticyclone (MPA) and foehn effect. MPA is the work of Marcel Leroux who stated that there's no global warming because there is no global climate. The van Vliet-Lanoë research rebutting the 'climate change killer' construct is presented in a plain language video by Friends of Science Society.
The world is facing a food, fuel, fertilizer energy crisis that will lead to famine in many countries. Now is not the time to embark on wasteful climate change policies based on ideology, says Friends of Science.
About
Friends of Science Society is an independent group of earth, atmospheric and solar scientists, engineers, and citizens that is celebrating its 20th year of offering climate science insights. After a thorough review of a broad spectrum of literature on climate change, Friends of Science Society has concluded that the sun is the main driver of climate change, not carbon dioxide (CO2).
Friends of Science Society
PO Box 61172 RPO Kensington
Calgary AB T2N 4S6
Canada
Toll-free Telephone: 1-888-789-9597
Web: friendsofscience.org
E-mail: contact(at)friendsofscience(dot)org
Web: climatechange101.ca