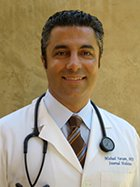 Convenience is just one reason that house call doctors are very much here to stay.
LOS ANGELES (PRWEB) May 22, 2021
A May 15 article on KTLA reports that more than half of California residents have received at least one dose of a COVID-19 vaccine, and roughly 38% of residents are fully vaccinated. The article also reports on findings from the U.S. Centers for Disease Control and Prevention (CDC) that ranks California 12th in the country for states with the highest percentage of vaccinated residents. Los Angeles-based and board-certified physician Dr. Michael Farzam of House Call Doctor Los Angeles welcomes this news, saying as the light at the end of the tunnel gets brighter, people can continue to take advantage of at-home options for doctors on call available for all types of medical needs, including coronavirus testing both at-home and via drive-through.
Dr. Farzam says that due to stay-at-home orders over the last year, individuals realized how many things could be accomplished at home, including medical appointments with house call doctors. In Los Angeles, where traffic can double or triple the amount of time it takes to drive anywhere, the Southern California physician says being able to do see a doctor from home has obvious benefits. Dr. Farzam notes that convenience is just one reason that house call doctors are very much here to stay.
The Los Angeles-based doctor says that thanks to modern technology and medical advancements, much of the standard equipment used in a traditional doctor's office are now miniaturized and easily portable. Dr. Farzam says that this makes it easy for doctors to bring quality care directly to patients' doorsteps, whether it's an at-home COVID test or ordinary checkup. This allows individuals to stay safely isolated at home, away from crammed waiting rooms with other ill and potentially infectious patients, he adds.
Dr. Farzam says that house call doctors can also provide patients with more personalized and unhurried care while treating them at home. He notes that while the average appointment time at a doctor's office lasts is usually less than 20 minutes and sometimes barely 10 minutes, his appointments tend to last closer to 45 minutes. The doctor says this allows him to fully address any questions or concerns his patients might have in addition to providing a more accurate diagnosis.
Readers who are interested in learning more about the services of board-certified physician Dr. Michael Farzam and House Call Doctor Los Angeles are welcome to call (310) 849-7991 or visit https://www.housecalldoctorla.com/. Dr. Farzam serves patients throughout the Greater Los Angeles area.