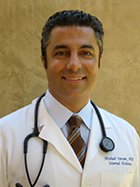 House call medicine is proving to be especially beneficial in our current world where such measures as social distancing remain necessary.
LOS ANGELES (PRWEB) July 06, 2020
A June 4 article on Forbes reports on how the COVID-19 pandemic may be spurring innovation in the medical and healthcare fields. The article discusses what the new normal might look like and how flexibility and open-mindedness will be a top priority among leaders and citizens alike when it comes to unfamiliar types of rules and regulations. The article notes that the pandemic is an opportunity for innovation and increased accessibility in the healthcare industry. Dr. Michael Farzam of House Call Doctor Los Angeles says that despite the devastating damage the novel coronavirus is causing nationally and worldwide, it's also providing many private and public entities with the opportunity to reassess their traditional business models, with an emphasis on creative yet more practical solutions that may have been previously overlooked. For the healthcare sector, Dr. Farzam says house call medicine is proving to be especially beneficial in our current world where such measures as social distancing remain necessary.
Dr. Farzam says that house call medicine combines the best of the old and new when it comes to medical care. While home visits from physicians might seem outdated, the truth is that the only reason it faded away in the 20th century was due to the technological advancement of medical instruments. The Los Angeles-based doctor explains that as a result of this improved medical equipment, the tools doctors relieve on became too large to be carried from home to home, thus resulting in the modern doctor's office now. However, as technology has advanced further, much like our phones and computers, medical instruments have since miniaturized and become mobile. Dr. Farzam says that much of the same medical care offered in a doctor's office can easily be brought directly to patients' homes once again.
Dr. Farzam adds that house call medicine provides many advantages over the typical visit to a medical office, most notably the fact that receiving care from the comfort of one's home from a 24 hour doctor ensures individuals are safely isolated from other ill patients gathered together in a traditional waiting room. In addition to lessening the amount of time an individual is potentially exposed to other ailments, house call medicine allows for more personalized care and attention. Dr. Farzam says that, while most patients only visit with an actual physician for about 20 minutes, he's able to spend closer to 45 minutes with his patients. As the doctor states, this gives him more time to make an educated diagnosis that considers many more factors than can be discussed in a 20-minute window.
Readers interested in learning more about board-certified physician Dr. Michael Farzam and House Call Doctor Los Angeles can call (310) 849-7991 or visit https://www.housecalldoctorla.com.