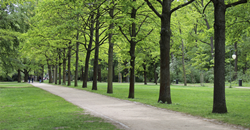 ELMA, N.Y. (PRWEB) April 09, 2020
Order on Line at MadeInAmericaStore.com or shop our Elma, New York store: 1000 W. Maple Court, Elma, NY 14059. (716) 652-4872
Many of us have able to get outside and go for walks in our neighborhoods and parks – always keeping a safe distance. It's been heartening to see so many families, as well as "seenagers" (senior teenagers), getting their blood pumping and their lungs filling up with fresh, outside air.
To vary up the routine a bit, we have some suggestions on outdoor activity products, all made in the USA, to brighten your days and lighten your steps:

Kan-Jam: We're especially proud of this game, which was designed and manufactured in Getzville, NY, and has gained popularity across the country. Lightweight and easy to set up, we have several different variants from which to choose.
Poof-Slinky: Now featuring way more than the slinkies your parents and grandparents enjoyed, this company has a fantastic line of foam soccer balls and footballs. Great for developing eye-foot and eye-hand coordination – especially for younger children and those with special needs – poof balls are the safe alternative to harder surface play balls.
Flying Discs: Let's get "Fido" involved in this family game. Start out using these discs for recreation, and work up to a competitive level if you dare. See how high your dog can leap to his or her delight, and yours, too.
But, if you overdo the outside recreation or have been sitting hunched over for too long while working from home, nothing beats the…
Body Massager by Bodyworks: Look, you can't schedule a massage for yourself these days, so take advantage of this amazing and compact ball of wonder that you'll keep on using even after gyms and spas open up in the future. Isn't it good to know you can relieve tight muscle discomfort on your own?
Now, there's no excuse to limit your outdoor activity while still maintaining safe, social distances. Community playgrounds may be closed, but you can still bring smiles and laughter to family members of all ages with these quality products.
Established in 2010, the Made In America Store is the nation's only 100% U.S.A. made department store. With more than 9,000 products from 500+ manufacturers, the Made In America Store is dedicated to creating and saving jobs in the United States of America by increasing U.S. manufacturing for our children's future. For more information, visit the Made In America Sore's website MadeInAmericaStore.com