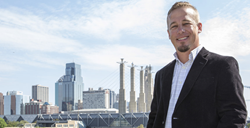 With this expansion, we bring our operational expertise and real estate experience to markets where thousands of families are looking to sell their homes.
KANSAS CITY, Kan. (PRWEB) April 02, 2020
HouseMax Inc., a Kansas City-based real estate solutions and investment firm that specializes in helping homeowners sell burdensome houses for quick cash without requiring them to contract with a real estate agent, announces expansion into two new markets: Springfield, Missouri, and Tulsa, Oklahoma.
The announcement comes at a time when HouseMax is gearing up for a surge in the real estate market—typically late March and early April—when homeowners across the Midwest are preparing to put their homes on the market. The company has offices in Kansas City and St. Louis as well as a supporting website where homeowners can reach out to professional home-buying consultants for free in-home consultations and evaluations of their properties. HouseMax is known across the greater Kansas City and St. Louis areas for offering generous cash prices for homes in any condition. Now the same service will be offered to homeowners in Springfield, Missouri and Tulsa, Oklahoma.
Both housing markets are strong and share many similarities to the Kansas City housing market HouseMax already serves. "Single-family homes make up 62% of the Springfield housing market, and most of those homes were built between 1970 and 2000," said HouseMax founder and CEO Jason Jones. "In Tulsa, the percentage of single-family homes is a bit higher, but the average age of homes on the Tulsa market is comparable to Springfield. Given this, we can easily assume sellers in both markets may be facing challenges with home repair or renovations that may not result in a return on investment for them. HouseMax is here to help by taking that burden off their hands and giving them a fair cash value for their homes so they can move on to better things."
Through HouseMax, homeowners looking to divest themselves of their property are getting top dollar for their homes. HouseMax never asks sellers to make repairs to their homes prior to sale, and there are no fees or commissions associated with any sale. HouseMax pays all closing costs.
"With this expansion, we bring our operational expertise and real estate experience to markets where thousands of families are looking to sell their homes with as little hassle as possible," said Jones. "We're expecting to be a valued resource for families in neighborhoods across each of these new regions. This has been a long-time goal for the HouseMax team, and we're excited to finally realize this goal."
Homeowners in the Springfield or Branson areas of Missouri or in Tulsa, Oklahoma are encouraged to visit the HouseMax website and click on the Locations tab for information specific to their location. They can also reach out to HouseMax Rep Ben Walls at (417) 413-5055 in Springfield or (918) 395-0550 in Tulsa with any questions that they might have about the HouseMax process.
About HouseMax
HouseMax is a family-owned house buyer and real estate investment firm that strives to help homeowners with a quick, easy, and streamlined home-buying process. HouseMax buys homes in Springfield and Branson, MO, Tulsa, OK, and across the Greater Kansas City and St. Louis areas. Most homes are purchased for cash through a simple, streamlined process. Sellers who choose HouseMax avoid weeks or even months of work and stress as well as the fees and closing costs involved in using a traditional realtor.
More Information
Additional information can be found on the HouseMax website at housemax.com or through the media contact information.