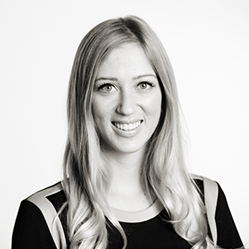 COSTA MESA, Calif. (PRWEB) March 18, 2020
Meyers Research, the housing industry's foremost advisors, announced today that Ali Wolf was promoted to Chief Economist, effective immediately. In this new role, Wolf will oversee the analysis of the U.S. economy and domestic real estate markets. Wolf will continue to report to Meyers Research Senior Managing Principal Tim Sullivan.
"I'm so proud of Ali and her many accomplishments at Meyers Research," said Jeff Meyers, CEO Meyers Research. "Her rapid career growth is a testament to the learning culture we've cultivated throughout the company with the goals of supporting a quest for knowledge, an open mindset and creating a platform to launch careers. Ali is a very driven individual, and I'm excited to have her continue to grow with Meyers Research."
As head of the Economics Department, Wolf manages and analyzes the content for Zonda and Metrostudy, provides data analytics, runs special research projects, and does presentations across the country on topics spanning both the housing market and the wider economy. Her curiosity drivers her to explore and research a myriad of topics ranging from what a presentation election means for the homebuilding industry to reasons to care about government debt and the impact of headlines on consumer behavior. Wolf has focused a lot of her career on understanding prior recessions and led the charge on 'Millennials discussing Millennials' in the homebuilding space. She has been quoted in major national publications such as Forbes, Bloomberg, Yahoo! Finance, MarketWatch, Realtor.com and more.
"The team at Meyers Research is constantly pushing each other to look at information in different and better ways," Wolf said. "I'm excited to continue to drive our research and data analytics projects forward to help our clients make the best decisions possible, especially in today's uncertain economic climate."
Wolf joined Meyers Research in 2015. Previously, she held positions as a researcher for both the Canadian and UK Parliaments. Wolf holds a Bachelor's Degree from The Ohio State University in Economics and a Master's Degree from the London School of Economics in Real Estate Economics and Finance.
She will remain based in Costa Mesa, California.
About Meyers Research
Meyers Research represents the housing industry's leading provider of rich data, backed by Zonda and Metrostudy, and the industry's top advisors for residential real estate development and new home construction. With products and services geared for homebuilders, multifamily developers, lenders, and financial institutions, we provide innovative solutions to maximize opportunities in today's real estate development landscape. To learn more, visit meyersresearchllc.com.
Meyers Research, Hanley Wood, Zonda, Metrostudy, and the company logo, are trademarks of Meyers Research, LLC and/or its subsidiaries.