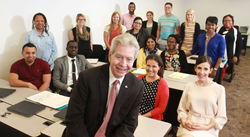 "Consumers are able to put themselves in the mindset of an MBA student to see how the flexibility of the curriculum will fit into their lives.
Houston, Texas (PRWEB) April 05, 2017
The University of St. Thomas, Houston's Catholic University, has unveiled an interactive online tool called MBABuilder™. The first of its kind in Houston, it allows degree seekers to customize their own MBA degree plan quickly and easily. Future Houston MBA students specify when they wish to begin classes, attain their degree and their preferred concentration. The tool generates a sequence, complete with course names, descriptions, and options for the user to choose elective courses related to their preferred MBA concentration.
"We are always striving to empower prospective students with the knowledge and resources to advance their career," said Todd Boutte, Director of Graduate Admissions for the University of St. Thomas. "MBABuilder™ provides them with personalized, practical and relevant information that is not easily accessible on most higher education websites."
When a user is satisfied with their MBA degree plan they can email it to themselves for future discussion with a University of St. Thomas graduate admissions counselor.
"Before engaging with a brand, consumers want to do as much research as possible on their own," said Mike Kramer, Director of Digital Marketing and Media. "They are able to put themselves in the mindset of an MBA student to see how the flexibility of the curriculum will fit into their lives."
The program is administered by the Cameron School of Business, accredited by the Association to Advance Collegiate Schools of Business.
AACSB is the ultimate elite accrediting body in business education worldwide. Only 5% of all institutions internationally have gained accreditation by this agency. The Cameron School of Business educates students of diverse backgrounds, instilling a deep appreciation for ethical behavior and judgment. Alumni are currently working in senior leadership positions for companies such as AIG, Memorial Hermann, Hewlett Packard, WalMart, Shell, General Electric, BBVA Compass and many others.
Begin building your MBA with MBABuilder™
ABOUT UNIVERSITY OF ST. THOMAS
The University of St. Thomas is currently celebrating its 70th anniversary. It was founded in 1947 by the Basilian Fathers as an independent, Catholic, coeducational university in Houston, TX. Centrally located in the city's Museum District, the University enrolls over 3,000 students. Set against the backdrop of the Texas Medical Center, UST has been ranked among the region's best colleges by U.S. News and World Report for over 20 consecutive years.