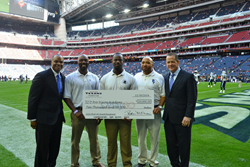 Houston, TX (PRWEB) December 12, 2014
On November 30, 2014, Rick Smith, the General Manager of the Houston Texans, and Jamey Rootes, President of the Houston Texans, presented Pro-Vision Academy leadership with a grant for $10,000 prior to the start of their game against the Tennessee Titans. It was an extremely proud moment for the Houston charter school, which just this year added a contact football team to its growing athletics department.
The donation was provided by the NFL Team Grant Program. The program gives each of the 32 NFL clubs up to five grants that they can then use to support deserving organizations and enterprises within their area. Pro-Vision Academy was the recipient of the Houston Texans' NFL Play 60 Initiative Grant. This fall schools throughout the Houston metro area were able to apply for the grant in order to fund projects and programs that are focused on keeping kids physically active. Pro-Vision Academy was one of only three schools that were awarded the grant this year.
Pro-Vision Academy has announced that the school plans to use the funds from the grant to purchase much-needed equipment for their extracurricular athletic programs, including:
•Footballs
•Basketballs
•Nets
•Volleyball gear
•Baseball equipment
•PE uniforms
These athletic programs not only encourage Pro-Vision Academy students to be physically active, they also teach teamwork and provide a productive social outlet during after school hours. The school's efforts are right in line with the Play 60 initiative, which is aimed at reversing childhood obesity by encouraging more kids to be participate in physical activities for at least 60 minutes a day.
To learn about Pro-Vision Academy, the football program and their many other extracurricular programs, please visit: http://www.provision-inc.org
About Pro-Vision Academy
Pro-Vision Academy was founded to provide young people in the greater Houston area with academic, social and economic opportunities in hopes of inspiring purpose and optimism in the lives they touch. The 21-acre facility is home to a grade 5-12 charter school, the Manhood Development Program, the Job Enterprise Academy and an urban farm program. Over the last 23 years Pro-Vision has helped more than 4,000 young people and their families, and they are currently providing support to more than 300 students.