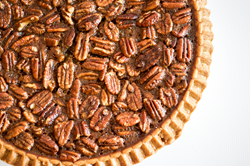 "With so many recent natural disasters in our country, it's important to come together and support struggling small businesses," says Bobby Jucker, bakery co-owner and fifth generation baker.
HOUSTON (PRWEB) November 14, 2018
Three Brothers Bakery is known for its scratch-made items created by fifth generation bakers, in-house roasted coffee and creating memories for generations of Houstonians and customers across the country. This holiday season, Three Brothers Bakery encourages everyone to join the Shop Disaster Zones movement, which inspires consumers to buy from areas of the country that have been affected by natural disasters, helping small businesses recover faster.
"With so many recent natural disasters in our country, it's important to come together and support struggling small businesses," says Bobby Jucker, bakery co-owner and fifth generation baker. "Whether you're helping small businesses in South Carolina, California, Florida, here in Houston, or wherever you may have loved ones that have been affected, one purchase can truly make a difference."
Three Brothers Bakery recently launched a new online store, making it easier than ever for customers from all across the U.S. to shop online. "We are over a year removed from Hurricane Harvey, but Houston is still rebuilding," said Janice Jucker, bakery co-owner. "We revamped our website and online store because we need the support of shoppers outside of our community. We are trying to start the movement to #ShopDisasterZones." Since most people shop online, the Juckers encourage shoppers to take an extra step and help small businesses recover economically in these disaster zones with their mail order purchases.
To celebrate the holiday season, Three Brothers Bakery's award-winning Pecan Pie features a scratch-made pie crust filled with a mound of southern pecans, creating an ooey, gooey pie. This southern treat was recently named to Country Living magazine's "8 best mail order pies" list for the second time. And, for those Pecan Pie fanatics, a deep-dish version of this pie is offered, giving you twice the filling and a full two pounds of nuts.
A new item offered at the bakery and the perfect gift is Cookie Button Pails, which features mix and match flavors of bite-sized cookies, available in Ginger Bread, Sugar, Chocolate Chip and Peanut Butter. Each pail features a half pound of cookies. A larger option is the Cookie Button Tin, which holds two pounds of the bite-sized cookies, also available in four flavors.
For those entertaining a big crowd or simply looking to make a statement at holiday gatherings, the Pumpecapple Piecake is a three layer piecake featuring a pumpkin pie baked in a pumpkin spice cake, a pecan pie baked in chocolate cake and an apple pie baked into a spice cake, with cream cheese icing holding each layer together, all topped and covered with cream cheese icing, pecan pieces and a caramel drizzle. Weighing in at nearly 28 pounds and standing 11 inches tall, this Texas-sized dessert can feed 80 people and is truly an edible work of art.
Three Brothers Bakery's online store features select items that can be ordered and shipped across the U.S., making the Houston-based bakery the one stop shop for desserts and pastries this holiday season.
About Three Brothers Bakery
The traditions of Three Brothers Bakery began in Chrzanow, Poland circa 1825, and were preserved despite the family's concentration camp imprisonment during the Holocaust. Their miraculous liberation, and subsequent move to Houston, brought Eastern European scratch baking traditions to 4036 S. Braeswood Blvd, 12393 Kingsride Lane, and 4606 Washington Ave where the owners are now proud to call themselves "memory makers who just happen to be bakers." Perfecting the process for almost 200 years, each day the fifth generation bakers produce mostly dairy-free breads and pastries, cookies, a full line of specialty dessert cakes and pies, as well as custom birthday, special occasion, wedding and groom's cakes using only the highest quality ingredients.
The Three Brothers Bakery pecan pie was named "the best mail order pecan pie America has to offer" by Country Living magazine in 2016, bakery owner, Bobby Jucker competed in the popular 'Food Network Challenge' and has been seen on Food Network's Outrageous Food. Three Brothers won "Best Mail-Order Pies 2012" from Bon Appetit, as well as Modern Baking's "2013 Retail Bakery of the Year" and was part of The Knot's "2010-2013 Best of Weddings" and "Hall of Fame" picks. In 2013, the bakery wont the Jeffrey Butland Family-Owned Business of the Year by the Houston division of the U.S. Small Business Administration. Most recently, Three Brothers Bakery was named one of "America's 20 Best Bakeries" by The Daily Meal in 2016 and in 2018, the bakery's Pumpecapple Pie Cake was featured on BuzzFeed's 'Worth It' web series. Brothers Bakery is a certified Woman-Owned Business through the Women's Business Enterprise National Council, and a State of Texas Historically Underutilized Business. In 2018, Three Brothers Bakery received the SBA Phoenix Award for Small Business Disaster Recovery.
Follow Three Brothers Bakery on Facebook and Twitter for Houston area news, information and events.