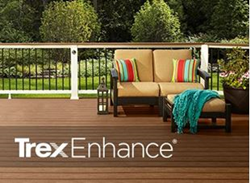 HOUSTON (PRWEB) February 26, 2019
Though it's been around since the 1990s, a lot of people haven't heard of composite lumber. If they had, they'd know this lumber, a mixture of wood, fiber, and plastic, is rapidly replacing wood for outdoor projects, especially decks.
It isn't the cheapest option. In the past, consumers could expect to pay up to three times as much for composite lumber over its wooden counterpart. In return, they'd get a durable, low-maintenance option that never lost its color, didn't warp or mold, didn't rot, crack, or splinter. It also served as an eco-friendly option for customers who wished to reduce waste.
On March 1, Bayou City Lumber will release the new Trex Enhance, an affordable version of composite lumber designed to make using composites the go-to choice. The lumber is available in three solid colors: Clam Shell, Beach Dune, and Saddle. There are also five streaked colors: Coastal Bluff, Foggy Wharf, Rocky Harbor, Sunset Cove, and Toasted Sand.
Most of the time when companies say something is "affordable," it's a bit of a non-word. It means nothing. Affordable compared to what? By whose standards? But in this case it has a definitive meaning: Bayou City Lumber is selling Trex Enhanced Basics for prices very close to treated pine decking.
Composite lumber typically lasts twice as long as treated pine, making it the more affordable choice.
We're proud to support our customer's projects with this outstanding new product offering. We've always been committed to looking for the best building materials on the market, and we wholeheartedly believe Trex Enhance fits the bill.
To learn more about Bayou City Lumber, visit http://www.bayoucitylumber.com. To learn more about Trex Enhance Naturals, visit https://www.trex.com/products/decking/enhance/.
CONTACT
Keaton Wendel
Bayou City Lumber
713-991-2377 Office
361-275-4842 Cell
keaton(at)bayoucitylumber.com
ABOUT BAYOU CITY LUMBER
Since 1994, Bayou City Lumber has provided building materials for bridges, bulkheads, decks, docks, and more to builders, contractors, and DIYers across the Houston Metro area. With more than 100 years of combined construction industry experience brought by the members of a dedicated team and 8.5 acres of inventory, they serve not just as a supplier but as a resource. Bayou City Lumber is Forest Stewardship CouncilⓇ certified, LEED certified, and FSC certified by the Rain Forest Alliance, thus proving its commitment to sustainable forestry practices and environmental stewardship. To learn more, visit http://www.bayoucitylumber.com.