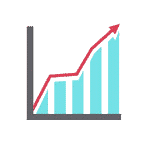 With an in-house staff, companies can exercise greater control over their operations and can adapt their strategies in real-time.
HOUSTON (PRWEB) November 09, 2021
With recent advances in communication and technology, many companies now prefer to outsource their labor and encourage their employees to work remotely. Although many companies adopted work-from-home policies during the COVID-19 pandemic, one Houston company has achieved exponential growth despite never leaving the office. Utilizing a well-rounded team of in-house employees, Actual SEO Media, Inc. dramatically increased its revenue during the pandemic and has attracted more than forty new clients throughout 2021.

As a rapidly growing internet marketing company, ASM harnesses the power of search engine optimization to help its clients market their products and services more effectively online. By drawing on the talents of writers, web developers, and researchers, this Houston firm creates effective solutions that allow businesses to expand their online recognition. Rather than hire remote workers in other regions, though, ASM prefers to work exclusively in-house.
In fact, Actual SEO Media, Inc. has continued to hire new workers and has even doubled its employee count since 2020. As a result, the company managed to achieve a net growth in revenue during the pandemic. "ASM only qualified for the government's initial round of financial aid during COVID," according to Maria Miranda, the office manager at Actual SEO Media, Inc. "Since we actually continued to grow our revenue throughout the following quarters, we were never eligible to receive any further assistance."
Effective Coordination and Greater Adaptability
In November of 2020, Actual SEO Media, Inc. opened its newest branch in The Woodlands to accommodate the increased demand for its SEO services. Additionally, the company also tripled its pay-per-click clients and successfully expanded on a national level.
While working remotely provides obvious benefits of comfort and convenience, Actual SEO Media, Inc. partially attributes its success to its traditional, in-person work environment. With each department closely coordinating throughout the workday, employees can collaborate more effectively and adapt their strategies on the fly. Without the additional challenge of managing team members in different time zones, information can be communicated quickly and directly across multiple departments.
By maintaining a centralized structure, Actual SEO Media, Inc. has cultivated a more streamlined workflow and faster turnaround times.
As a leading SEO company in Houston, Actual SEO Media, Inc. helps clients to expand their online presence. By using a variety of techniques, the company aims to maximize clients' search engine optimization and widen their clients' scope of recognition. For more information, contact the office at (832) 834 - 0661 or by email at: info@actualseomedia.com.