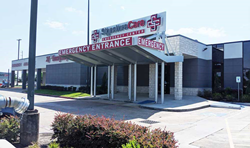 Overall, psychologically, it just helps you enjoy your day, enjoy the time you spend with your family. You are more awake, you are more alert, more involved.
HOUSTON (PRWEB) February 27, 2020
For most Americans, staying fully awake throughout the day can be a tough proposition. By midday we usually start nodding off. Health experts believe that even a 20-minute afternoon nap is beneficial, and helps with performance and productivity throughout the day.
The problem is that most of us cannot spare 20 minutes during the day, but Dr. Habacuc Garcia, a Houston, TX based emergency room physician, says that taking daily naps will help you live a healthier life and cause your productivity to soar.
Dr. Garcia, a board-certified emergency room physician is the Medical Director of SignatureCare Emergency Center in Stafford, TX. He recently joined local Houston, TX news station, FOX 26 News's medical reporter and morning show co-anchor, Melissa Wilson to discuss the benefits of napping. He said a quick snooze during the day could be the key to higher productivity and greater confidence.
See the video of the conversation here.
On the health benefits of napping, Dr. Garcia said it is mostly alertness and accident avoidance.
"Mostly alertness and accident avoidance. You know, I can't tell you how many horrible accidents we see from people falling asleep at the wheels," Dr. Garcia said.
He said napping during the day also helps most people enjoy their day, including the time they spend with family.
"Overall, psychologically, it just helps you enjoy your day, enjoy the time you spend with your family. You are more awake, you are more alert, more involved."
He added that naps have the same health benefits as sleeping during the night, including helping to get rid of neurotransmitters that accumulate in the brain as we go through the day.
"Same thing that happens during the night. You go through the various stages of sleep. What you want to do is stay in the first couple stages of sleep.
"The second stage is really clearing out all those byproducts of staying awake and that is what really makes you feel awake, by getting rid of those neurotransmitters that have been accumulating around your brain," he added.
On how long an afternoon nap should be, Dr. Garcia advised no longer than 20 minutes.
"Between 15-20 minutes. That is ideal. More than that you are getting into the late stages of sleep and you are getting up really tired and groggy."
Dr. Garcia added that the best time to take an afternoon nap is between 12:00 PM and 2:00 PM because "that is when people really start to feel tired."
For those who might find it difficult to fall asleep during the day, either as a result of loud sounds or bright lights, Dr. Garcia said the secret is to make sure you are comfortable.
"Just make yourself comfortable. If you are trying too hard to fall asleep, then you probably don't need it. If it happens naturally, let it happen. If it is a struggle, you probably don't need it.
"If you are sleeping too long and waking up too late, it will affect your sleep at night. Sleep early on, make it short," he added.
About SignatureCare Emergency Center
Houston, TX based SignatureCare Emergency Center owns 24-hour emergency centers throughout Texas including nine locations in the Houston area (Montrose, Houston Heights, Cypress/FM 1960, Copperfield, Memorial City, Westchase, Bellaire, Mission Bend/Sugar Land and Stafford), Killeen, Austin, College Station, Paris, Midland, Odessa and Texarkana and our newest location in Lewisville, TX.
Additional information is on our website at https://ercare24.com.