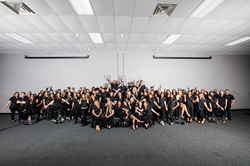 "It's been incredible to see our team's growth over the last 10 years, with our humble beginnings as a husband-and-wife team, to our team today with 89 people. We are forever grateful for our team, clients and friends who have helped us get to where we are today."
HOUSTON (PRWEB) January 21, 2021
The Loken Group, the top real estate team in the Greater Houston area, announced their 10-year business anniversary today. Lance and Karina Loken started The Loken Group in January 2011 with a goal to be the pre-eminent real estate solution in the Houston area, and by doing so, make a positive, lasting impact in our community.
"From day one, we set out to create a successful real estate team that would provide innovative solutions and deliver a 5-star client experience," said Lance Loken, CEO of The Loken Group. "It's been incredible to see our team's growth over the last 10 years, with our humble beginnings as a husband-and-wife team, to our team today with 89 people. We are forever grateful for our team, clients, and friends who have helped us get to where we are today."
Not only has The Loken Group grown to become the No. 1 Residential Real Estate Large Team in Houston (Houston Business Journal, based on both units and volume), but also the No 1. Large Team by transaction sides in the nation (REAL Trends), and the No.1 Keller Williams non-expansion team worldwide.
"I am extremely proud of what we've been able to accomplish these last 10 years," said Karina Loken, founder of The Loken Group. "We have a collection of some of the most talented and driven people in the industry on our team, and I can't wait to see what we'll be able to accomplish over the next 10 years!"
The Loken Group, a team of specialists out of the Keller Williams Platinum office, serves real estate buyers, sellers, and investors in all 9 counties in the Greater Houston area. They were ranked No. 1 on the Houston Business Journal's 2020 Top Residential Real Estate Large Teams lists (reporting a sales volume of $628.79M and 2,393 transaction sides in 2019); and No. 1 in America by 2020 REAL Trends + Tom Ferry The Thousand, as advertised in The Wall Street Journal (Large Teams by Transaction Sides in 2019 – 2,384.50). In 2021, Keller Williams Realty International named The Loken Group No. 1 in the world for non-expansion group (based on 2020 closings, volume, and units). For more information about The Loken Group, please visit our website, http://www.TheLokenGroup.com.