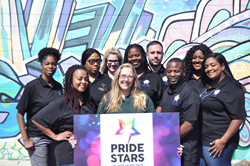 Pride Stars connects people from around the world, spotlighting great talent with an inclusive spirit.
HOUSTON (PRWEB) March 18, 2020
High kicks, jazz hands and high notes; bright lights and free-flowing feathers – this is how "those in the know" describe the world's leading Pride Talent Show, PRIDE STARS. Originating in Amsterdam and across Europe, the Pride Stars franchise will debut in North America in 2020 during Pride Festivals.
The first U.S. city to join the Pride Stars global network is Pride Houston, Inc., which attracts nearly a million attendees annually. By partnering with Pride Stars North America, the festival will have international exposure and a chance to perform at Winter Pride in Maspalomas. Pride Stars in Houston will debut on June 18.
"Pride Stars connects people from around the world, spotlighting great talent with an inclusive spirit," said Heather J. Taylor, Managing Partner of Pride Stars North America. "When a city joins the Pride Stars global network, they become part of a diverse family, supported by promoters, producers and program consultants dedicated to helping each city and contestant succeed."
Singers, dancers, magicians, comedians, acrobats and other unique talents will compete for a chance to represent their host city at the Grand Finale at Winter Pride. Performers are encouraged to upload an audition tape by the deadline of April 30th before midnight. Audition tapes are reviewed by Pride Houston with the international Pride Stars consultants and the top talent are selected for the live show held at Culture HTX on June 18.
The winners from each city around the world will compete on November 9-15 at the international Pride Stars Grand Finale in Maspalomas, Gran Canaria during Winter Pride. Each finalist act will perform in front of thousands of people for a chance to win money and prizes from sponsors.
Who can audition? Anyone 18 and over. Pride Stars encourages individuals and group acts to let their talent shine. The contest is an all-inclusive talent show that celebrates the world's diversity, showcasing amazing performances from around the world during Pride Festivals.
For Lo Moton Roberts, President of Pride Houston, the Pride Stars contest is a perfect fit for the nation's most diverse city. "This year's theme is Pride Houston 'DiverCity,' which sums up what we're all about – celebrating inclusivity for all people in the beautiful queer community," said Roberts. "We can't wait to share our diverse talent with the world and look forward to sending our winning act from Houston to the Grand Finale in Gran Canaria."
For many contestants, it's a once in a lifetime opportunity to compete before an international audience. Last year's Pride Stars Grand Finale winner was Jenny Ball from the UK who had competed against twelve other countries including Italy, Denmark and Spain. Ball's win offered a career boost with a rush of incoming calls, bookings and invites for other performances. For 2020 the Pride host cities expand across several continents, including Canada, UK, U.S.A. and Europe.
For cities interested in joining Pride Stars, please visit pridestars.com or watch the razzle-dazzle videos on Pride Stars YouTube channel to learn more.