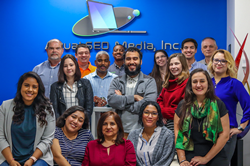 We practice what we preach. We maintain our background and follow through with our promises. Our clients and team see that, so they stay with us.
HOUSTON (PRWEB) November 02, 2021
With jobs numbers steadily climbing back to pre-pandemic levels, one Houston company bucks the trend of slow growth and is rapidly expanding. With a 40% growth in employee numbers in the last 4 quarters, Actual SEO Media, Inc. defies the national trend of slow returns to pre-pandemic levels of employment.
The pandemic affected everyone on a global scale, and businesses are still rebuilding to return to pre-pandemic normalcy. The process is gradual as everyone is scrambling to find talented workers while juggling post-pandemic regulations and marketing strategies. It isn't uncommon to see growth stagnate for a time as businesses try to reorganize internally and prepare for future ventures.
Actual SEO Media, Inc. on the other hand decided to defy logic and has seen rapid growth in this last quarter. Like others during the pandemic, the company reorganized its team to accommodate the pandemic health guidelines and remain open. Once the government allowed businesses to reopen their businesses offline, the company took the chance to expand further than its pre-pandemic stature.
The company welcomed new hires in various positions. These positions included those in creative fields like content writing and web design. Other sectors within the company, such as sales and marketing, also saw new faces. With this expansion, Actual SEO Media, Inc. is now able to serve the needs of more clients better and faster.
Altogether, the company has seen 40% growth of their members within the previous quarter, defying the national average. Coupled with their new hires and tried-and-tested workflow, their productivity has also skyrocketed. This productivity has given them the chance to expand their services and open newer locations.
Successful internal growth has allowed for new business ventures, attracting new clients to the company's six current offices. When asked how they manage to not only retain their previous clients but even see new ones, Actual SEO Media, Inc.'s CEO Jamin Mootz said, "We practice what we preach. We maintain our background and follow through with our promises. Our clients and team see that, so they stay with us."
The company employs a non-abusive methodology of organic content to create real growth for their clients. This includes writing content articles that drive attention and clicks to a company's website.
Actual SEO Media, Inc. has a team of in-house researchers, writers, editors, and web designers that work together to produce content clients will be proud of. While other companies export their work for subpar results, this company's professional team works with only hand-selected writers who produce high-quality articles about and for clients.
As a leading SEO company in Houston, Actual SEO Media, Inc. helps clients to expand their online presence. By using a variety of techniques, the company aims to maximize clients' search engine optimization and widen their clients' scope of recognition. For more information, contact the office at (832) 834 - 0661 or by email atinfo@actualseomedia.com.