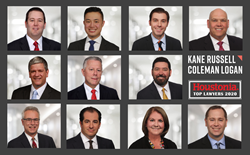 "It is always an honor for our attorneys to be recognized in Top Lawyers," Managing Director of the Houston office Mike Ridulfo said. "We strive to maintain our local reputation as excellent legal service providers and we are proud to serve the Houston area."
HOUSTON (PRWEB) December 03, 2020
Eleven attorneys from the Houston office of Kane Russell Coleman Logan PC have been recognized as Top Lawyers by Houstonia magazine.
The KRCL attorneys on this list represent seven of the firm's practice areas. The attorneys recognized include:

"It is always an honor for our attorneys to be recognized in Top Lawyers," Managing Director of the Houston office Mike Ridulfo said. "We strive to maintain our local reputation as excellent legal service providers and we are proud to serve the Houston area."
The Top Lawyers list is based on a peer-voting process among attorneys in the Houston area. The Houstonia magazine editorial staff then reviews the ballots for final approval and adjustments before publishing the list in the magazine's December issue.
Kane Russell Coleman Logan PC is a full-service law firm with offices in Dallas and Houston. Formed in 1992, the firm provides professional services for clients ranging from Fortune 500 companies to medium-sized public and private companies to entrepreneurs. KRCL handles a wide array of transactional, litigation, employment, and bankruptcy matters in Texas and throughout the country.
SOURCE: Kane Russell Coleman Logan PC
Follow KRCL on LinkedIn
Like KRCL on Facebook
Follow KRCL on Twitter