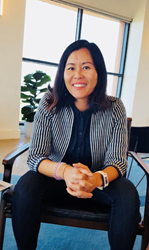 CEO Cindy J Lin will share HOVE's unique approach to data impact in a panel entitled "Sustainability and Storytelling".
SAN DIEGO (PRWEB) October 04, 2018
Cindy J Lin, Co-Founder & CEO of HOVE Social Good will be presenting at the Sustainable Fashion Forum hosted by FashionDex and LA Textile, taking place October 4, 2018 at the California Market Center, Los Angeles, CA.
CEO Cindy J Lin will talk about HOVE's unique take on storytelling and data analytics focusing on calculating the positive social impact of socially responsible companies and socially conscious individuals who choose to purchase with purpose. HOVE leverages environmental, health and consumer data to create actionable solutions for individuals and companies in the social commerce ecosystem.
"We asked a simple question: how do we measure social good that inspires more positive actions? We are determined to show that small, everyday actions can create a big impact. We not only highlight the socially responsible companies who thoughtfully work on giving back and inform us of their company's social impact, but just as importantly, we want to demonstrate the positive impact and power of consumers by better examining data and developing more organic and visual outcome measurements," stated Cindy J Lin.
The Sustainable Fashion Forum is a one-day conference focused on sustainable fashion and textile processes and practices, offering tangible ways fashion businesses can lead in sustainability, ethical responsibility, and climate change.
HOVE Social Good is an innovative, mission-to-action lifestyle company working to shift people's behavior and build positive impacts. HOVE offers advanced data analytics for social responsible companies and organizations to better define the social impact of their product or service.
About Cindy J Lin
Cindy is the founder and CEO of Hove Social Good. She previously worked at the US Environmental Protection Agency, for near 20 years, solving tough environmental and scientific problems encountered in international and national projects. Dr. Lin has a Masters in Environmental Chemistry and a Doctorate in Environmental Science and Engineering.
For more information about HOVE Social Good, please visit: https://hovedata.com/