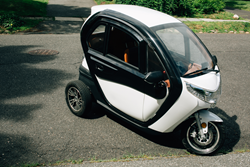 EDISON, N.J. (PRWEB) October 30, 2018
Today Hover-1 launched two new electric rideables for last mile transportation: Dragonfly, a $2,000 electric motorcycle, and Aero, a $4,000 electric three-wheeled car. They are both now available on Indiegogo.
Hover-1 is well-known for their successful lines of hoverboards, E-bikes, E-scooters, and E-skateboards sold at major retailers across the country including Walmart, Target, and Best Buy. Both of their new electric rideables provide a convenient and accessible solution for any type of last-mile transportation.
"After being in the electric rideable space and understanding the consumer market for several years, we found that there were no affordable options for real last mile transportation," said Head of Product Development Marc Liniado. "So we set out to create accessible, clean, efficient modes of transportation that are attainable to the general population."
Aero can reach up to 28 MPH and 43.5 miles per eight-hour charge. It has a 1200 watt engine, disc and parking brakes, reverse button, back up camera, horn, anti-theft alarm, and twist throttle.
Dragonfly can reach up to 32 MPH and 34 miles per six-hour charge. It features a 1500 watt engine, disc brakes, security system, Bluetooth audio, USB charging ports, and radio.
Whether it's in cars or on busses, to the grocery store or to the gym, the current means of getting around cities like public transport and filling our cars with gas can be time-consuming, stressful, and expensive. With a lack of time and busy schedules, the world needs an affordable way of getting around that isn't time consuming or tiresome.
Electric rideables are more than just a fun, affordable way to travel and provide more than just individual benefits. The U.S. alone used nearly nine billion barrels of petroleum last year, two-thirds of which went towards transportation. Hover-1 Electric rideables help reduce this threat because almost all U.S. electricity is produced from domestic sources, including coal, nuclear, natural gas, and renewable sources.
"Our mission is to bring safe and more affordable electric transportation to the market," said Liniado. "We know consumers of our products care about the environment. Our rideables help cut down on emissions. Plus, they make running errands and daily commutes more convenient and way more fun."
All three products are now available on Indiegogo with early bird prices starting at $2,000 USD for the motorcycle and $4,000 USD for the car. The estimated delivery date for both products is June 2019.
About Hover-1
Hover-1 is a New Jersey-based company that did over $100 million in sales in the electric rideable space in 2017. They have grown to be the number one hoverboard manufacturer in the country. They are partnered with DGL Group, a New Jersey-based consumer electronics production company. DGL's customer base spans multiple retail tiers, including but not limited to discount, mass-market retail, e-tail and more, covering distribution channels of over 250,000 individual store locations nationwide.
Media wishing to interview their personnel should contact PR agent, Jackson Wightman at +1 (514) 605-9255.