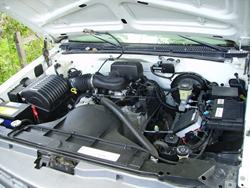 Someone who is currently dealing with a broken down vehicle and is considering replacing a motor block could benefit from the guide available
Cleveland, OH (PRWEB) August 28, 2015
Consumers who are not experienced when purchasing used condition vehicle components from web dealers will now benefit from a new guide posted at the Preowned Engines website. A how to buy car engines at a discount guide is now presented at http://preownedengines.com/buy-cheap-engines.
This guide was written by industry experts to inform the public about precise steps to take when buying car parts from web based dealers.
The guide includes some of the mistakes to avoid as a first-time motor buyer in the USA. Since the emergence of eBay motors, Craigslist and other third-party resources, some consumers have experienced issues with non-reputable sellers of automobile parts and accessories, according to the new guide.
"Someone who is currently dealing with a broken down vehicle and is considering replacing a motor block could benefit from the guide available," a rep at the Preowned Engines website said.
While the guide details some of the best sources to use when evaluating prices from multiple dealers, consumers are cautioned to research any dealer advertising a lower MSRP price. Experienced auto mechanics and distributors in the parts industry have provided a portion of the information that is presented to the public.
"It is expensive to replace most Japanese and European vehicle parts although people who are not careful can pay additional expenses when acquiring a USA manufactured block," added the rep.
The Preowned Engines company has spent the last 36 months building a better consumer accessible components inventory of I4, V6 and V8 motors. The company is now securing arrangements to list used condition diesel motor blocks that will be supplied by trusted dismantlers across the country.
About PreownedEngines.com
The PreownedEngines.com company has constructed a national call center and warehouse distribution center to help consumers locate used condition automobile motors for a discount price. The PreownedEngines.com company website is now visited daily by hundreds of people researching classic or modern vehicle components retailed by salvage suppliers.