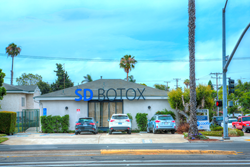 I started Botox as a fun side business project, but it quickly turned into a bigger concept. I knew I was transforming people's lives and I loved that.
SAN DIEGO (PRWEB) August 27, 2018
Dr. Roher M.D. opened SDBotox to help people realize their true self; today it is more than just a place to get BotoxⓇ.
First opening its doors in 2012, SDBotox has become part of the fabric that makes the San Diego community. By providing a welcoming environment for patients seeking to enhance their features, SDBotox has distinguished itself as one of the leading medical spas in the area.
The team is made up of highly specialized doctors and nurses who work together to provide services at the patient's request. The company's founder, Dr. Alex Roher, M.D., is a resourceful former anesthesiologist whose first experience in the medical spa industry ignited an interest that has since grown into a passion.
"With anesthesia, I never personally got to know my patients. They were asleep half the time. When I started doing BotoxⓇ, I learned more of who they were, which allowed me to build a connection and provide a more individual service."
After 8 years in the anesthesia world, he left the industry to pursue his full-time business SDBotox. Today it is a warm atmosphere for patients seeking BotoxⓇ, fillers, and other non-invasive cosmetic procedures.
When asked what made him proud of his work, he proudly stated,
"I truly love seeing, interacting, and helping my patients become the best version of themselves. I used to do this by myself and now I have grown by working with others who are just as passionate about this field as I am."
Besides working with medical aesthetics, Dr. Roher recognizes the importance to give back to the community. He works alongside the Scripps Health Foundation M.O.S.T., Medical Surgical Outreach Team, a distinguished organization that provides care to children and adults in Mexico through life-changing surgeries.
"I am given the incredible opportunity to work alongside doctors and other medical professionals to improve the quality of life to children with inadequate care."
With 2 locations under its wing and more to open this year, the SDBotox brand is quickly expanding. Just this month, SDBotox opened its sister company SDBody, a hormone replacement clinic meant to accompany people through healthy aging.
For Dr. Roher and his team, the future of SDBotox looks promising. The innovation that continues to develop in the cosmetic procedure space establishes the need for patient treatments. SDBotox is prepared to fulfill those needs for years to come.
About SDBotox
SDBotox is a medical spa with over 5 years of experience in aesthetic procedures. Equipped with only the highest quality products in the market, SDBotox makes it a priority to deliver beautiful results to patients in San Diego.
As we continue to expand our services, our goal is to provide clients with consistent and stunning results. There are currently two locations in the greater San Diego area which include Hillcrest and Pacific Beach.
We are working to provide an all-in-one comprehensive spa location. Services like CoolSculptingⓇ, a new way to get rid of fat, are currently being expanded to all our locations. If you are looking for any BotoxⓇ, filler, or skin rejuvenation treatments SDBotox is currently open to new clients. Contact us to learn more.