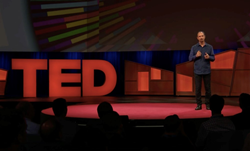 LONDON (PRWEB) November 07, 2019
AI is already transforming people's personal lives, without their permission! They may not even be aware of the ways it is doing so. It is not as obvious as one might think.
It is set to transform work, businesses, society and lives. Understanding the far reaching impact of AI is becoming increasingly important.
In his powerful TED talk, Dr Tom Gruber coined the term "Humanistic AI", which has gained a lot of traction to become a growing, influential theme.
On 5th December, Tom will share the facts about how AI is changing lives today, not always for the better, and also give his thoughts on the collaboration opportunities between humans and machines that can help create a better life for everyone
His talk "How AI can save humanity (or not)" will give a unique insight into the important humanistic and ethical questions organisations should be asking when implementing and/or investing in AI.
There will be a Q&A at the end of the session.
If anyone is unable to make the live session, please register as normal and they will receive a copy of the presentation, post-event.