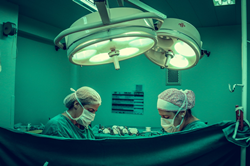 Faced with payer and patient demand for more affordable, more convenient care and an ever-widening array of able competitors, healthcare providers have no choice but to respond. - Kevin Fleming, CEO, Loyale Healthcare
LAFAYETTE, Calif. (PRWEB) October 30, 2019
Earlier this year, the Advisory Board published a popular story titled "ASCs (Ambulatory Surgical Centers) are growing even faster than you think. How can hospitals respond?" In it, Advisory Board Senior Analyst Jackie Kimmel described the economics driving the growth of Ambulatory Surgical Centers and the threat this trend poses for hospital inpatient revenue. Ms. Kimmel also lays out several strategies hospitals can pursue to preserve revenue and protect or grow market share.
We at Loyale Healthcare have also noted this trend. Our work with hospitals, ASCs and specialty providers gives us a uniquely well-informed perspective on changing consumer behavior and the impact of efforts to relocate patients to lower-cost settings by health insurance companies and the Center for Medicare and Medicaid Services (CMS).
Perhaps most importantly, we have been interacting with healthcare consumers for the past decade. Processing more than forty million patient encounters per year, representing more than $50 Billion in patient revenue, we've witnessed up-close how the growing financial burden on patients is affecting the care they get and the providers they choose. We have also had the privilege of working with forward-thinking healthcare providers that are adapting to meet this new market reality.
It's the Economics, Dummy!
The American healthcare market is experiencing a fundamental shift in market economics. And, as the largest and most influential payer for healthcare in the U.S., Medicare (CMS) is taking an active role in accelerating the market's transition. For 2020, CMS has proposed a variety of rule changes that would add many new surgical procedures to the approved ASC LIST, increasing the range of services and scope of treatments to patients.
Why? Because ASCs deliver care more efficiently and at lower cost, saving CMS (and taxpayers) money. To illustrate, according to CMS' Procedure Price Lookup website, CMS reimbursement for cataract surgery is $781, with a patient balance of $195 for a total cost of $977. The same procedure at a Hospital Outpatient Department is reimbursed $1,533, with the patient owing $383 for a total cost of $1,917, nearly double the cost of an ASC for both payer and patient.
These savings aren't confined to Medicare patients either. CMS reimbursement policies encourage private insurers to adopt similar policies, thereby reducing costs for employers who sponsor workplace health plans and their covered employees. According to the Healthcare Bluebook, commercial insurance cost savings in Ambulatory Surgical Centers amounts to $38 Billion per year. But - as important as payers are - their influence on the market is giving way to a new, larger and more motivated payer: patients themselves.
The Changing Expectations of the American Healthcare Consumer
Patients now represent the third largest source of provider revenue, behind only Medicare and Medicaid. The same cost considerations that are driving changes to payer policy are affecting patients too. Saddled with higher premiums and larger co-pays and deductibles from high deductible health plans, more and more patients are choosing less expensive alternatives - especially when those alternatives also promise greater convenience.
In an article published earlier this year, we explored the economic and demographic trends that are forcing change on healthcare, and the wide variety of emerging alternatives that are now available to consumers. Millennials and younger are abandoning the traditional Primary Care Physician care delivery model. These technology-savvy consumers are seeking care that's more convenient and more easily accessible. Most important - they want care that is more affordable. As healthcare prices continue to escalate, consumer demand for more affordable care will be impossible to ignore.
As important as price is for consumers when seeking healthcare, experience matters too. According to the Conference Board, ASCs measure up very favorably against hospitals for experience factors such as easy scheduling, greater appointment availability, minimal wait times, convenient locations and easy parking - all of which make ASCs attractive to consumers who are strapped for time and money.
Affordability + Patient Experience = Patient Preference
Ambulatory Surgical Centers represent one model in a marketplace that's expanding to include several other more consumer-friendly care delivery channels. These include retailers like CVS Health and Walgreens Health, as well as promising new approaches from innovators like Haven Healthcare (the joint venture of Amazon, JP Morgan Chase and Berkshire Hathaway), Apple Health and others. All of these alternatives to the traditional hospital care delivery model are aiming to capture share in a marketplace that's desperate for more convenient, affordable care.
Playing to their already considerable strengths, some ASCs are working to make care even more affordable for patients. Partnering with my company, Loyale Healthcare, these ASCs are implementing new technologies to provide patients with meaningful price transparency and payment planning tools to bring their portion of the bill within reach. These financial benefits are then enhanced with data-driven experiences in billing and communications that are more personal and more compassionate than most healthcare financial interactions.
The Choices for Hospitals - If You Can't Beat 'Em…
The Advisory Board Analysis mentioned above lays out three broad strategies for hospitals to respond to the growth in ASCs (and any of the other care alternatives mentioned above). They include: 1) Adopting protectionist tactics designed to keep cases in inpatient settings; 2) Overlooking outpatient alternatives altogether and prioritizing inpatient business or; 3) Implementing proactive strategies to "compete for outmigrating cases".
Of the three, we agree with the conclusion that proactive strategies to compete with outpatient providers is the most sustainable and achievable. It's difficult to argue otherwise. The facts are clear...the money in healthcare is shifting to healthcare providers that deliver better value – the same quality of care but at a lower cost. That means care that's affordable, accessible and convenient. When CMS, private insurers AND patients are all looking for the same thing, the market simply must respond. Hospitals that expect to remain relevant must find ways to get on board.
At Loyale, we work with ASCs to help them improve their already impressive operations by providing patients with financial experiences that improve affordability and increase satisfaction. Our automated systems and data-driven workflows help ASCs reduce costs and improve revenues. We also work with health systems and hospitals, delivering the same technologies and outcomes to healthcare providers who are determined to compete and win in the changing healthcare marketplace.
For hospitals to retain important outpatient revenue, nurture patient relationships and grow or protect market share, the providers Loyale has partnered with are pursuing three different strategies – building or buying their own ASCs, partnering with existing ASC networks or refining and segmenting operations to include Urgent Care and other, more efficient, operating models. HCA Healthcare, one of the largest and most successful providers in the U.S. and a Loyale partner, operated 123 ASCs nationwide at the end of 2018. This is just one example of hospital owned or affiliated ASCs among many listed in a Becker's Healthcare article published this spring.
In a paper published last year by Health Leaders Media in collaboration with Avanza Healthcare Strategies and Clark Hill | Strasburger, the subtitle says it all, "As hospital ASC investments grow, physician joint ventures offer a strong path forward". In it, survey results from 109 senior executives in healthcare paint a picture of an industry that's adapting to change.
As the introduction to the paper states, "More than a decade ago, hospitals and ambulatory surgical centers were fierce competitors. With the ASC industry recently maturing and inpatient care rapidly migrating to outpatient environments, hospital administrators' attitudes toward ASCs have changed dramatically." Here are some of the survey results:

Percentage of respondents with ASC ownership or affiliation – 41%
Percentage of respondents who anticipate additional ASC investments – 48%
Rationale for ASC ownership or affiliation includes: Increase outpatient surgical capacity (64%); Enhance physician relationships (60%); Respond to consumer-driven trends (58%); Increase revenue (53%); Defensive: Prevent physicians from taking their outpatient surgical cases outside the hospital system (49%); and Reduce costs (47%)
The Way Forward
The options for healthcare are clear. Faced with payer and patient demand for more affordable, more convenient care and an ever-widening array of able competitors, healthcare providers have no choice but to respond. The Loyale platform was engineered precisely for this environment. Using our tools, providers of every operating model are improving patient affordability and answering consumer calls for easier, more personal experiences. For our provider partners, improved revenues and reduced costs are the icing on the cake.
Kevin Fleming is the CEO of Loyale Healthcare
About Loyale
Loyale Patient Financial Manager™ is a comprehensive patient financial engagement technology platform leveraging a suite of configurable solution components including predictive analytics, intelligent workflows, multiple patient financing vehicles, communications, payments, digital front doors and other key capabilities.
Loyale Healthcare is committed to a mission of turning patient responsibility into lasting loyalty for its healthcare provider customers. Based in Lafayette, California, Loyale and its leadership team bring 27 years of expertise delivering leading financial engagement solutions for complex business environments. Loyale currently serves approximately 12,000 healthcare providers across 48 states. Loyale recently announced an Enterprise level strategic partnership with Parallon including deployment of its industry leading technology to all HCA hospitals and Physician Groups.