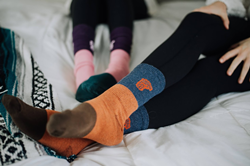 SAN MARCOS, Calif. (PRWEB) January 23, 2019
Hippy Feet started by donating a pair of socks to the homeless for every pair they sold, and as of January 2019, they've donated over 20,000 pairs of socks.
Hippy Feet's commitment to the community doesn't stop there. A portion of all proceeds goes to give homeless youth jobs, providing them the necessary skills to get them off the street. In fact, 50 homeless youth have found employment with Hippy Feet and more than 800 hours of employment has been created for these individuals.
In 2019, Hippy Feet is expanding those efforts to have the largest impact it can in combating homelessness within the youth population.
Through Hippy Feet's Pop-Up Employment program, the company is able to provide transitional jobs to homeless youth. Currently, their screen printing, embroidery and packaging processes take place at Elpis Enterprises, Youthlink and other non-profits already providing services to that community.
Additionally, through outreach, the sock company with a cause has also developed partnerships with other various organizations and shelters in the Midwest to reach a wider base. This allows Hippy Feet to provide job training and opportunity in an effort to get youth into stable housing and full-time employment.
About Hippy Feet:
Hippy Feet got its start in an unusual way – with a bump on the head! Founder Michael Mader suffered a severe head injury after falling off his skateboard. During his long recovery, he heard about the need for clean socks at homeless shelters which inspired him to do something about it. He partnered with Sam Harper and Madelyn Pung to launch Hippy Feet in 2016. Since then, the Minnesota-based company has delivered nearly 20,000 pairs of socks to those less fortunate.
For more information visit https://www.hippyfeet.com/ or contact susana(at)teamchicexecs(dot)com.