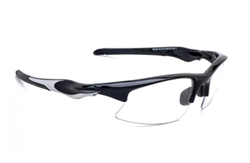 MIDDLESEX, N.J. (PRWEB) February 05, 2020
One of the best things about the Internet today is that we can purchase a wide range of items from the comfort of our own home. Just look at the number of products on platforms like Amazon or Alibaba. While online retail has disrupted many brick and mortar business models, consumers are happier because they can get their favorite items delivered to their door—all at a great price.
When looking at the eyewear industry, however, this wasn't exactly the case. Several years ago, purchasing prescription safety eyewear online was difficult and expensive. Not only was the selection poor and returns were difficult, but online eyewear retailers weren't exactly offering bargains for their customers. On the contrary, these prescription safety glasses were expensive. Yes, they may have been high-quality pieces of eyewear, but the price for that eyewear didn't make financial sense for many customers.
Ultimately, the world has changed. Now, there are stellar online eyewear retailers that can offer you terrific prescription safety glasses at much more affordable prices. These online retailers, moreover, provide great customer service and are happy to help find the best possible eyewear for you.
Whether you are looking for a new pair of prescription safety glasses for your job or are looking for new prescription safety glasses for your personal carpentry work, you are in a great position. There are plenty of terrific prescription safety glasses available for sale online today. And even better, purchasing these glasses will not break the bank.
The Benefits of Using the Internet to Purchase Prescription Safety Glasses
When purchasing prescription safety glasses, there are inevitably some important features that you will need.
For instance, one of the most important attributes is that your chosen pair of prescription safety glasses meets some sort of safety standard. Some of the most widespread standards today are from the American National Standards Institute ("ANSI"). Prescription safety glasses that meet an ANSI standard have been thoroughly stress tested and can protect your eyes in the most challenging environments. As we enter the new decade, you can find plenty of prescription safety glasses online that meet the ANSI and other standards. Especially if your boss or workplace requires prescription safety glasses that meet these standards, you can have the confidence that you will find a great pair online.
Along with meeting these safety standards, style may be important to you. While you won't be wearing prescription safety glasses to the beach, you may want your glasses to be aesthetically pleasing and stylish. You may be searching for a certain color. On the other hand, you may not care about a specific color so long as your safety eyewear matches what you wear every day. By purchasing your safety eyewear online, you can access a huge inventory of safety eyewear. Whether you find that perfect style and design early or later in the process, you will inevitably find a pair of prescription safety glasses that speaks to you.
Finally, when purchasing prescription safety glasses, price is almost always a factor. Regardless of your income level, you likely want to get your money's worth when purchasing prescription safety glasses. In other words, you don't want to be ripped off. But as has been the case in nearly every industry, the Internet has accelerated price competition. Direct to consumer retailers in the eyewear industry offer lower prices to consumers. And lest you think that these lower prices result in lower-quality eyewear, many online eyewear retailers sell fabulous glasses for lower prices.
In sum, it is a great time to be a consumer looking for safety eyewear today.
Some Great Prescription Safety Glasses Available for Sale
With the discussion above in mind, let's look at some examples of high-quality safety eyewear that you can find online. All of these selections are just examples of what you can find at some of the best online eyewear retailers. If you don't see a selection below that speaks to you, there's no need to worry. By doing some additional research on your own, you are sure to find the perfect pair of prescription safety glasses for you.
First, let's take a look at the Prescription Safety Glasses RX-Q300. This line of prescription safety eyewear is extremely durable and reliable. It is made out of TR-90 nylon and is ANSI Z87 safety approved. This ANSI safety approval can give you some much-needed of mind when you are wearing these glasses at work or play. Removable side shields give you added protection from flying dust and debris that is coming in from the side. Along with that, these glasses have a wraparound style and rubber coated temple bars. These temple bars can offer you a secure fit as you are moving throughout your day. The frame comes in black and you can even purchase the frame with a prescription. Best of all? The price starts at $55, making this pair of glasses a terrific option for many types of budgets.
Beyond the RX-Q300 line of prescription safety glasses, you can also find the Wiley X Peak line of safety glasses. Wiley X, if you haven't yet heard of it, is an extremely reputable eyewear company. While it started out by creating eyewear for police officers and military professionals, it has expanded its mission to create stellar eyewear for all types of individuals. The Wiley X Peak line is a great example of that. Like the RX-Q300 line of prescription safety glasses, the Wiley X Peak meets ANSI standards (particularly, the ANSI Z87.1 high impact and optical performance standard). It is highly durable and will serve you well in many different challenging conditions. In fact, it is so durable that it is rated as OSHA-grade occupational protective eyewear.
This line contains shatterproof lenses that block 100 percent of ultraviolet rays. Comfort is also the name of the game here. This line features a secure, non-slip rubberized fit for all face sizes. You can find this line in frame colors like gloss black and matte black. This line sells from approximately $63 to $117.
Finally, there is the ArmouRx 6006 Plastic Safety Frame. ArmouRx is another fantastic eyewear company that is well-known for its commitment to quality. This line is ANSI Z87 safety approved and contains integrated side shield protection. Along with this, wearers of this line can take advantage of a removable cushion and strap. You can find this frame in colors like black, blue, and grey. The price is extremely affordable as well. You can find this frame for $30.
Once again, this is just a selection of high-quality safety eyewear that you can purchase online. The bottom line? There is something for everyone.
The Best of Both Worlds
In effect, you are getting the best of both worlds by purchasing prescription safety glasses online today. Not only do you get to select from an extensive inventory of safety eyewear, but you can access that inventory at competitive prices. This is vastly different than the situation several years ago, where it would have been expensive to find the eyewear that you truly wanted.
Therefore, don't hesitate to start shopping today. Whether you are looking at safety eyewear for work or play, you are sure to find it online. Better yet, you'll be able to do so without breaking the bank.