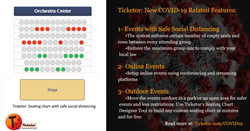 LOS ANGELES (PRWEB) May 20, 2020
The COVID-19 pandemic has had an immense effect on the economy. One of the hardest-hit industries is the live events industry including venues, concerts, performing arts, sport, churches, etc. Events and venues were one of the first industries that were forced to close down and one of the last ones to be able to re-open and recover.
As some regions and cities start to partially reopen events and venues, things are not going to be like before. There are a lot of changes and new rules and regulations, based on social distancing, which is a challenge for venues and event organizers.
A Los Angeles based ticketing platform and box-office system provider, Ticketor, has come up with creative solutions to help venues and events reopen as soon as possible in a safer way.
The company that has been around for over a decade and is known mostly for their reasonable pricing and feature-full, white-label ticketing and box-office system has now quickly responded to the pandemic and developed all the required features to allow the events and venues to comply with the social distancing regulation.
On a page dedicated to Covid-19 pandemic, see Ticketor.com/Covid19, the company announced four new, key features to help venues and events re-open:
1. Safe Social Distancing for Seated Events:
Their seating chart tool, that allows the event organizers to design virtually any seating chart and the ticket buyers to pick their seat on the interactive seating chart, now enforces certain number of vacant seats between each attending party, based on the organizer's configuration, to ensure the safe distance between attendees.
This feature is not only used for ticketed events, but also for free events and gatherings like churches that normally don't sell tickets but need to enforce the safe social distancing for their attendees through free registration.
2, Cap the Venue Capacity:
Most cities and states only allow smaller events and require the gathering to be limited to certain number of attendees. The new Capacity Cap feature enforces the maximum number of tickets sold across all price levels and variations.
3. Outdoor Events:
Some states and cities have fewer restrictions when it comes to outdoor events. It means that lots of events that were formerly performed in theaters and concert halls, with standard and fixed seating charts, are now moving to parks and open areas. The Ticketor state-of-the-art seating chart designer tool comes handy in this situation.
The tool allows the event organizer to design virtually any seating chart, including theater-style, round-table or any combination, in a matter of minutes or hours instead of weeks or days. The event organizer can use the tool to design their custom seating chart on their own using the easy Seating Chart Designer tool and provided walk-through and tutorial video or they can have Ticketor to build it for them.
4. Online events:
Support for online events is another way the company is fighting the battle to keep the events going.
Ticketor also announces its dedication to continue to quickly respond to and provide the features that may be required to re-open events around the world and attributed that to their agile and flexible, in-house engineering and design team.
The company even asked their clients to contact them if they have any specific requirements that need to be addressed for re-opening.