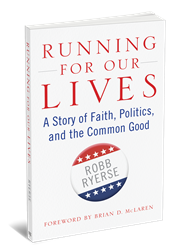 "We need more stories like Robb's in today's America, stories that prove some people do still get into politics hoping to make things better for someone other than themselves." —Angela Denker, author of Red State Christians
LOUISVILLE, Ky. (PRWEB) February 18, 2020
On Inauguration Day in January 2017, progressive Republican and evangelical pastor Robb Ryerse listened to Rob Bell's podcast, RobCast. Like many Americans that day, Ryerse felt powerless. Listening to RobCast that night, Ryerse found an unexpected calling. The guest was the founder of Brand New Congress, an organization that equips everyday Americans with resources and training to challenge entrenched incumbents from both parties. Ryerse felt hope again. He took the first steps to run for Congress in 2018, hoping that with other "ordinary citizens," the country could change in a revolutionary way with a government by and for the people.
Joining Brand New Congress, Ryerse and other congressional hopefuls, including a then-unknown Alexandria Ocasio-Cortez, met at "Congress Camp" to prepare their campaigns. Ryerse ran a long-shot, congressional campaign in Arkansas against Steve Womack, one of the most powerful Republican incumbents in Washington, D.C. He realized the realities of money in politics—cost-prohibitive filing fees just to get a candidate's name on the ballot, incumbents with PAC money who never have to fundraise in living rooms or coffee shops, and the limits of grassroots organizing against candidates accepting corporate donations. He connected with other progressive evangelicals who feel animated by issues such as LGBTQ rights, income inequality, and healthcare. He saw firsthand that in order to get rid of career politicians, we need to invest in bivocational candidates, everyday Americans running for office who also work one or more jobs. These light-shining stories of collaboration and the power of faithful people working for the common good comprise his new book, the political and faith memoir Running for Our Lives: A Story of Faith, Politics, and the Common Good.
"Robb Ryerse is the kind of guy who believes in big ideas that are daring enough that they just might happen," says Angela Denker, author of Red State Christians: Understanding the Voters Who Elected Donald Trump. "We need more stories like Robb's in today's America, stories that prove some people do still get into politics hoping to make things better for someone other than themselves." Though Ryerse ultimately lost his campaign, he is committed to seeing ordinary people become leaders for their communities and representatives in government, writing "Being involved in politics could be a vital expression of my commitments to see divine love, peace, and justice extended to all people. The gospel to which I was called to be a minister was actually big enough to be good news for all aspects of every person's life." Ryerse continues this commitment as the executive director of Brand New Congress and the political director of Vote Common Good, which helps to mobilize people of faith in support of progressive candidates.
Running for Our Lives is now available from Westminster John Knox Press. Robb Ryerse's writing was most recently featured in TIME and you can watch the documentary about his campaign journey True Believer on TheAtlantic.com. He is also the author of Fundamorphosis: How I Left Fundamentalism but Didn't Lose My Faith. He lives in Fayetteville, Arkansas, where he copastors Vintage Fellowship with his wife, Vanessa.