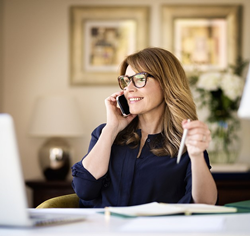 Where possible, automate BYOD policies. You'll also want to take advantage of available technology solutions to alleviate work-from-home privacy and security concerns.
HOBOKEN, N.J. (PRWEB) October 21, 2020
A NYC area IT consultant discusses how business cell phone best practices empower work from home employees in a new article on the eMazzanti Technologies website. The informative article first reviews the privacy and data security risks of using personal cell phones for business.
The author then outlines the key elements of a strong BYOD policy. He concludes by encouraging readers to employ appropriate technologies and training to support their BYOD policies.
"Where possible, automate BYOD policies," stated Almi Dumi, CISO, eMazzanti Technologies. "You'll also want to take advantage of available technology solutions to alleviate work-from-home privacy and security concerns."
Below are a few excerpts from the article, "Cell Phone Best Practices Empower Work from Home."
"Now, more than ever, the lines between work and personal life have blurred. And for the millions of employees working from home, the cell phone represents the ultimate connecting point. More than ever, we use personal cell phones to conduct business. The following cell phone best practices help protect both the organization and the employee."
Start with a Solid BYOD Policy
"BYOD policies define the responsibilities of both the company and the employee regarding personal devices for business use, providing the framework for BYOD best practices."
Support Policies with Technology
"For example, mobile device management (MDM) solutions allow organizations to control which devices connect to the network. They also provide the capability to restrict access by job function and enforce application whitelists or blacklists. And if a cell phone with sensitive data becomes lost or stolen, the MDM provides remote wipe capabilities."
Experts to Guide Cell Phone Best Practices
Navigating the BYOD landscape can prove challenging. eMazzanti Technologies helps business leaders choose and configure the technology and security options best suited to organizational needs. They understand the balance between convenience and security, and have the tools needed to put cell phone best practices into place.
Have you Read?
How to Succeed at Company-Wide Security Awareness Training
MSPs Empower Remote Work with Flexible Solutions
About eMazzanti Technologies
eMazzanti's team of trained, certified IT experts rapidly deliver increased revenue growth, data security and productivity for clients ranging from law firms to high-end global retailers, providing advanced retail and payment technology, cloud and mobile solutions, multi-site implementations, 24×7 outsourced network management, remote monitoring and support.
eMazzanti has made the Inc. 5000 list 9X, including eight consecutive years, is a 4X Microsoft Partner of the Year, the #1 ranked NYC area MSP and NJ Business of the Year! Contact: 1-866-362-9926, info@emazzanti.net or http://www.emazzanti.net Twitter: @emazzanti Facebook: Facebook.com/emazzantitechnologies.