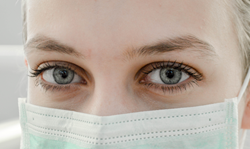 "We're seeing the early impact on consumer behavior," says Jeff Harrelson, COO at MFour. "Eighty-six percent of our consumer panel is limiting social interaction. Travel is social. So, we'd expect other high-traffic businesses to feel the effects3, as the outbreak continues."
IRVINE, Calif. (PRWEB) February 24, 2020
MFour Mobile Research, a full-service market research firm, today announced that the Coronavirus, COVID-19, is responsible for a 38% drop in consumer behavior.
In early January, the first death linked to COVID-19 was reported1. Consumers took notice. Two weeks later, MFour tracked its consumer panel's visits to top 10 U.S. airports. Using the market research app, Surveys On The Go®, the company found a 38% decline in airport visits, compared to 2019. The drop correlates to the first reported Coronavirus case in the U.S2.
"We're seeing the early impact on consumer behavior," says Jeff Harrelson, COO at MFour. "Eighty-six percent of our consumer panel is limiting social interaction. Travel is social. So, we'd expect other high-traffic businesses to feel the effects3, as the outbreak continues."
Research highlights from the Surveys On The Go® consumer panel:

38% airport decline was observed through GPS tracking on panelists' smartphones
72% of panelists expected the concern of Coronavirus to last more than two months
86% planned to limit social interactions, or visits to public places, as a preventive step
For a full copy of the research report, please contact MFour Mobile Research.
About MFour:
MFour introduced Surveys On The Go® (SOTG), a consumer research app, in 2011. With more than 2.5 million consumers, it's the largest, first-party panel in the US, with an average 4.5 stars out of 5-star ratings in Apple and Google Play stores. Consumers share their opinions via surveys sent to their phones. They are paid to give their feedback in surveys, and to have their behaviors studied on their smartphones through GPS.
The company continues to innovate and evolve market research products and processes. As the recognized leader in survey technology, MFour combines consumer opinions obtained through surveys with GPS tracking, together with observed online activities and purchases. To learn more, visit us online at http://www.mfour.com.