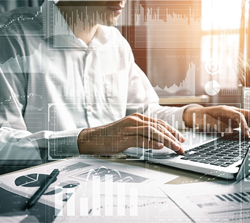 Historically the best way to understand complex data sources, the scope of data modeling continues to expand.
HOBOKEN, N.J. (PRWEB) October 15, 2020
Messaging Architects, an eMazzanti Technologies Company and data governance consultant, discusses how data modeling promotes effective data governance in a new article on the Messaging Architects website.
The informative article first asserts that data modeling has entered a new era where metadata is the heart of enterprise data management. The author then discusses the power of data modeling to communicate visually and its usefulness for harnessing metadata. He then presents several ways that data modeling facilitates enterprise data management and provides value.
"Historically the best way to understand complex data sources, the scope of data modeling continues to expand," stated Greg Smith, Vice President of Services Delivery at Messaging Architects. "Its importance as the focal point of collaboration between data producers, curators and users also grows."
Below are a few excerpts from the article, "How Data Modeling Supports Effective Data Governance."
Visually Empowers
"Data modeling excels as the preferred way to design and deploy new complex data sources. The power of a data model to communicate visually empowers those who manage and govern, enabling smarter decisions."
Harnesses Metadata
"Effectively governing data and drawing intelligence from it depends on effective metadata management. In addition to harvesting and cataloging, metadata must also be visualized to communicate its meaning to stakeholders in the data value chain. Visualization breaks down the complexity of data organization and clearly identifies data relationships."
Facilitates Enterprise Data Management
"Data modeling captures and circulates how the organization defines and uses data. It facilitates design task automation and enforcement to promote data integrity. Managing the data source design and maintenance lifecycle, the data modeling process also results in a more flexible and governable data architecture."
The Value of Data Modeling
"Data modeling promotes and enhances effective data governance and other positive outcomes. For example, it facilitates collaboration within an organization because it serves as a visual reference point for everyone in the organization seeking to meet governance requirements."
Help from Data Governance Experts
Making data easy to understand and access within the business increases the value of data assets. In addition, the return on investment grows as more opportunities are realized. Engage Messaging Architects to realize both as the champion of effective data governance.
Have you read?
Municipal Data Governance Leads to a Brighter Future
Embrace Data Ethics as an Essential Part of Business Strategy
About Messaging Architects
Messaging Architects specializes in effectively managing and securing an organization's most precious asset, its information. With over 20 years of information management and technology consulting experience, the Messaging Architects team has provided corporations, educational intuitions, health care facilities and nonprofits with methodologies, procedures and technology to keep their data organized, compliant and secure.
About eMazzanti Technologies
eMazzanti's team of trained, certified IT experts rapidly deliver increased revenue growth, data security and productivity for clients ranging from law firms to high-end global retailers, expertly providing advanced retail and payment technology, digital marketing services, cloud and mobile solutions, multi-site implementations, 24×7 outsourced network management, remote monitoring and support.
eMazzanti has made the Inc. 5000 list 9X, including eight consecutive years, is a 4X Microsoft Partner of the Year, the #1 ranked NYC area MSP, NJ Business of the Year and 5X WatchGuard Partner of the Year! Contact: 1-866-362-9926, info@emazzanti.net or http://www.emazzanti.net Twitter: @emazzanti Facebook: Facebook.com/emazzantitechnologies.