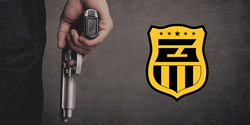 Taking advantage of a globally trusted company such as Fast Guard Service can have a genuine impact on reducing the risk of a mass shooting and potentially save many lives.
MIAMI (PRWEB) December 04, 2019
According to data from the Gun Violence Archive (GVA), as of September 1st, 2019, the year has the unenviable accolade of having had a total of 283 mass shootings around the country in only 244 days. Such multiple casualty attacks, while not having an official definition, tend to be referred to as when four or more people have been shot, not including the shooter. Many of the shootings have been extremely high profile, including an incident at Walmart in El Paso, Texas, on August 3rd where 22 people died, and a shooting in a municipal building in Virginia Beach, Virginia, where 12 people died.
The numbers make for very sobering reading, with the total gun deaths hitting 9,932 and 19,868 injuries so far this year. But 2019 is by no means an anomaly. 2016 saw 382 mass shooting incidents, 2017 had 346, and 2018 totaled 340. This has extremely serious repercussions for the US as a whole, in particular for businesses, institutions, events, and any place where members of the public gather in significant numbers. The need for impeccable risk assessments and the provision of the right security services has become paramount. There is also a very strong case to ensure that ongoing dynamic evaluation is an essential aspect for those who're responsible for the provisions put in place.
The Need For Strategic Risk Assessments
Fast Guard Service is a leading global security company that's entrusted by some of the world's biggest names to ensure robust security solutions in all situations. Risk assessments are the first step to creating the ultimate bespoke arrangements to guard against an event such as a mass shooting. The first stage is that of a "threat assessment," whereby every aspect is considered, from accidental and natural through to those of criminal and terrorist intent. Historical records and local crime rates will be taken into account, but with the ever-increasing concern of an active shooter incident this, of course, has to be a very real consideration.
The next step will include a "vulnerability assessment." Depending on whether this is a fixed location, for example, a shopping mall or school, or a one-off event, such as a festival, this will have a direct impact on the security measures necessary for the best protection. In addition, this portion of the assessment will consider the impact of loss should a security breach occur, as well as the location's vulnerability.
With this data in place, a risk analysis will follow and the recommendations for security detail or upgrades to those already in place will be advised. The last step is that of re-evaluation once all of this has been implemented.
From Evaluation To The Provision Of Service
When considering the security of any event, public, or private location, it's vital to take the advice of proven professionals. Even in areas where security systems have already been put in place the regularity of such mass shooting incidents brings about a need for constant reassessment to determine any potential vulnerabilities. Whether that be the implementation of additional security guards, the provision of world-class security monitoring, or increased installation of technological assets, the responsibility to ensure the ultimate protection has never been greater.
Taking advantage of a globally trusted company such as Fast Guard Service can have a genuine impact on reducing the risk of a mass shooting and potentially save many lives. Find out more at https://fastguardservice.com