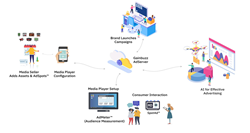 Faster Smarter Better Media Buying
NEW YORK (PRWEB) September 27, 2019
Platforms are defining the future. With Disney + (streaming), Google Stadia (games), Spotify (music), and many (many) other entertainment-oriented platforms out there today, the future is in creating a user-friendly space that bridges content from the creators to the consumers. In the era of instant-everything, it's crazy that both advertisers and media sellers still waste countless hours in emails, phone calls and online searches to execute integrated campaigns effectively across various physical and digital media assets.
Whether it is outdoor, indoor, cinema, print, radio, transit, event or any other physical AdSpots®, Gainbuzz brings the entire media sales process online so the brands can discover advertising opportunities, connect with media owners and plan their entire advertising campaigns on a single platform with few clicks. That means fewer emails, fewer phone calls, and a faster turnaround to execute more effective ROI driven campaigns without leaving one's desk. The streamlined collaborative process saves time and money and provides better, more effective campaigns for advertisers.
Gainbuzz Pro app gives Media Sellers easy and quick access to all the tools needed to manage AdSpaces on the go; from managing media assets to responding to requests and receiving payments and much more.
Any business can list their physical space for brands to advertise on. With FREE Gainbuzz Media Player Digital Signage App, local business can turn foot traffic into advertising revenue in less than 5 minutes. That means extra income.
SpotAd® is an exciting way for consumers to make money by getting rewarded with points or save money with cash back offers, discount gift cards and the best deals for your favorite brands — both for in-store and online shopping. Brands can launch SpotAd campaign to reward customers for scanning various physical or digital ads there by getting much needed performance data to effectively measure ROI.
Whether you want to create a buzz, reach a mass audience or direct locals to your front door, Gainbuzz is the smarter way to advertise for the brands. It provides a common online platform for businesses to launch hyperlocal campaigns. Now listing, discovering or booking an AdSpots® is as easy as ordering food!