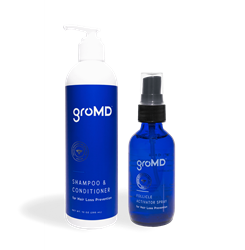 Dr. Yazdan worked to create a blend of natural DHT blockers that work in tandem to help promote hair growth and prevent further hair loss.
LOS ANGELES (PRWEB) March 17, 2021
Founded by board certified physician and hair restoration surgeon Dr. Amir Yazdan M.D., GroMD is an innovative hair-loss preventer that comes in a common form: shampoo. Designed for those who don't want to go to such drastic measures as surgery, GroMD works to block dihydrotestosterone, or DHT, which is a hormone that thins hair follicles and slows growth. This hormone is more prominent in males but still exists in female bodies, and does play an important role in puberty, but leads to hair loss later in life, so GroMD works to diminish the effects of DHT for middle-aged adults who are seeing its ugly side effects.
In designing GroMD, Dr. Yazdan researched hundreds of ingredients, but found that no one of them was objectively the best, and advertisements proclaiming such can be a bit misleading. Instead, he worked to create a blend of natural DHT blockers that work in tandem to help promote hair growth and prevent further hair loss. These include saw palmetto, stinging nettle, licorice root extract, and caffeine, among others. The berries Saw palmetto have been found through research to have a positive impact on hair growth, and its presence in GroMD keeps your hair growing at a natural pace. Stinging Nettle is rich in vital nutrients and antioxidants such as biotin which greatly impact the health of both your hair and scal, as well as your skin and nails. Licorice root extract counters the testosterone of DHT with a phytoestrogen, which has the same effect on your body as estrogen. By countering the effects of testosterone, Licorice root extract works to block DHT's attempts to impede hair growth. Finally, caffeine will wake up your hair follicles as well as you, and will help activate them to promote hair that is fuller and thicker.
In addition, GroMD utilizes other scientifically researched DHT blockers including niacinamide, Korean red ginseng, and pumpkin seed extract, to form a proprietary blend of ingredients. This mixture works to counter all aspects of DHT and promote healthy hair growth, to improve the hair of both men and women. GroMD shampoos and conditioners are also made with argan oil and niacinamide, to deliver nutrients to the scalp and hair. Our mixture is finalized with HairGenyl®, Redensyl, and Capixyl™ to provide a thorough, comprehensive blend of ingredients that all work toward the same goal. Interested users can visit GroMD for scientific notation and research on the effectiveness of these ingredients.
GroMD includes a hair growth shampoo and conditioner that are combined into one, and users may also purchase our Activator Spray with works to activate hair follicles with copper peptides. Our DHT-blocking products are available on our website for one-time purchase or through a subscription, and are $69.99 individually or $119.99 when purchased together. Customers who sign up for a subscription can save 50% on their first order with the code FIRST50. As part of our commitment to providing results, GroMD also includes a 60-day money back guarantee as part of our no-risk trial to users.
Dr. Yazdan has received extensive training in Hair Transplant Surgery in one of the leading Hair Transplant Centers in the world. He has successfully performed over 5,000,000 (5 Million) FUE graft extractions and has harvested over 5,000,000 (5 Million) FUT grafts. For additional information on GroMD and Dr. Yazdan, visit https://gro.md/ and https://modenahair.com/amir-yazdan-md/.