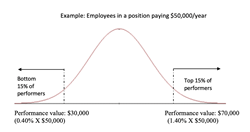 PETALUMA, Calif. (PRWEB) July 30, 2020
Organizations faced with a shrinking economy need to cut costs, and that means targeting their most expensive assets: their employees. But often, due to policy, contracts, and tradition, companies execute layoffs by last-in, first-out or by job elimination strategies that actually cause tremendous waste to the bottom-line.
The financial health of organizations is based on the performance of its employees. An aggregate research study summarized 59 other studies and came up with some useful data about the value of performance which can be used to strategically perform a "talent reset."
"The research shows us that bottom performers lose companies money with every paycheck." says Katy Caselli, organizational psychologist and Founder and President of Building Giants, LLC. For example, a performer in the bottom 15% of the organization is actually losing their employer 40% of what they are paid." So that means a bottom employee earning $50,000 per year is actually performing work valued at $30,000 per year.
While "meets expectations" employees create roughly the value their salary covers, the key is not losing the top performers to a layoff, because they are worth a startling 40% more than what they are paid. This researched "rule of thumb" shows us that in order to keep a company's most valuable assets, a thorough performance evaluation should form the basis of decisions to downsize.
An example of this inefficiency would be to layoff 20 newer hires from the business. Statistically, that means 3 poor performers, 14 middle performers and 3 excellent performers would lose their jobs in a typical organization. At a salary of 50K, we have saved $1 million in payroll costs. But we have also lost middle and high performers. Caselli says: "If we targeted 20 bottom performers, we have removed a staggering loss of $400,000 in poor performance plus the 1 million dollars in payroll costs. And we keep high performers in the company where they can help the organization get back on its feet." Substitute this with higher salaries and larger layoffs and the losses can be in the millions.
"Caselli says "Now is the opportunity to shrink costs intelligently, by removing the poor performers companies have had to put up with during the tight labor market that ended in March of 2020. But the data I've collected shows a continuing trend in outdated, non-strategic termination practices, leaving companies in a weakened position."
When the economy comes back and companies are ready to grow again, savvy Human Resources leaders can replace the poor performers with the best of who is available (and there will be many choices in a wide-open job market). By using a systematic and rigorous hiring process, objectively selecting the best performers available could result in twenty, new, high performers worth 40% more than their salary.
"This is shown in behaviors like persistence, agility, innovation, high judgement, and personal drive, all highly prized characteristics that result in organizational success," Caselli says. Crucially, these are the behaviors that can help struggling organizations rebuild profits after COVID-19, and they are a portion of the workforce that can soon be promoted internally, driving a culture of excellence, loyalty and retention.
Katy Caselli is a workforce development expert, instructor, author and organizational psychologist. Her groundbreaking performance evaluation methods are featured on her website at https://www.buildinggiants.com/.
Connect with Building Giants on LinkedIn: https://www.linkedin.com/company/16158797.
Notes:
Cascio, W., & Boudreau, J. (2008) "Investing in people: Financial impact of human resources initiatives." Upper Saddle River, NJ: Pearson.
Schmidt, F.L., & Hunter, J.E. (1983). Individual differences in productivity: An empirical test of estimates derived from selection procedure utility. "Journal of Applied Psychology, 68, 407-415"