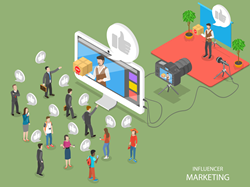 NEW YORK (PRWEB) September 13, 2019
Studies show that 83 percent of people trust their peers. However, only 62 percent trust a TV commercial. This statistic demonstrates the importance and relevance of influencer marketing in today's world.
DesignRush.com, a B2B marketplace connecting brands with agencies, determined the hallmarks of successful social media influencer marketing.
Influencer marketing is shown to increase sales and brand loyalty. In fact, bloggers who are not celebrities are 10 times more likely to inspire an in-store purchase than celebrities.
In addition, 64 percent of consumers will stay loyal to a brand who shares the same values -- and influencers communicate those values on a level that everyday consumers can comprehend.
Influencer marketing is shown to increase a bevy of other key performance indicators, such as:
1. Engagement rates
2. Audience retention
3. Return on investment
4. And more!
View the full report here: https://www.designrush.com/trends/social-media-influencer-marketing
DesignRush also determined the social media firms who can help brands integrate influencer marketing into their strategy effectively.
The top social media marketing companies include:
1. Launch Digital
Launch Digital is a creative design and marketing agency working with clients of all sizes and in all sectors. They understand every brand and project has different values and audiences. The agency has a very powerful in-house creative team with young, fresh designers led by strong marketing directors and management.
https://www.launchscotland.com/
2. MEDIAFORCE
Founded in 1996, MediaForce is one of the most established digital marketing agencies in the world. They provide cutting edge digital marketing strategies and technologies that help give their clients an "unfair advantage" in the market place. Their thought leadership team is constantly learning new tactics and methodologies from institutions such as MIT and Google.
3. TopRight
TopRight helps clients transform their marketing by working through the right combination of Story, Strategy and Systems to tell each story better, execute go-to-market strategies more effectively and deliver a remarkable customer experience flawlessly. TopRight is the transformational marketing consulting firm focused on serving the strategic growth objectives of C-Suite executives, their direct reports, and their organizations.
https://www.toprightpartners.com/
4. Spot On
Spot On was founded in 2012 with the main goal of creating a digital marketing agency focused on driving business growth for clients. Located near Birmingham, Alabama, the agency was founded by Susie Kelley and Rebecca Graves. Their team is made up of highly trained professionals who are award-winning designers, content writers, and strategists.
https://www.thespotonagency.com/
5. GKV
GKV helps brands challenge the status quo in hyper-competitive categories. While tradition labels them as an ad agency, GKV brings critical thinking, strategic planning and innovative execution to every communications platform. GKV provides a complete range of services: brand strategy, creative development, digital marketing, media planning and buying, social media, PR, content creation, digital/broadcast production and experiential marketing. Their client roster includes national and regional companies in the healthcare, insurance, OTC, telecommunications, consumer services, CPG, and gaming categories.
6. Digitally Up
Digitally up is a direct response digital marketing agency in Australia that aims to bring businesses to the next level with tailored digital marketing practices. Their sole purpose is making businesses run as successfully as possible through their wide-reaching and cross-channel campaigns to convert the right customers.
7. GB Agency
GB Agency is a full service, boutique advertising and marketing agency that has been providing successful solutions to clients around the globe since early 2012, when CEO James Bremner exited Booker software after helping them raise a highly successful 'A' round of venture capital. As Vice President of Marketing at Booker, James rebranded the company, positioned it as the market leader and drove 300% increases through their lead generation, while simultaneously lowering the cost of acquisition of their customers by over 50%.
8. K2 Analytics INC
K2 Analytics Inc. is fully engaged with businesses to maximize future success. With a creative, passionate, and driven marketing team, settling for ordinary is no achievement as they take every client and project to its fullest potential. From website and graphics to content and social media, they explore the possibilities to reach audiences, increase sales, and spread brand awareness.
9. MAXAUDIENCE
MaxAudience is a strategic brand and marketing consultancy with online lead generation and conversion at its core. They assist medium and large-scale businesses with precise, high ROI, marketing campaigns that deliver inspiring results. At MaxAudience, the results are seen in a matter of months. Increasing a business's success is the name of the game and we do it quickly.
10. MOPA
MOPA is a boutique agency that does Marcom (digital, PR, social), celebrity, makeup and blockchain projects. They have worked with the government bureau, art institutes, luxury brands, auto companies, top 500 corporations, and more. Their talents are not only from multiple industries and the business cycles but also from their strong relations with media, celebrities and professionals.
11. Olive Street Design LLC
Olive Street Design is an award-winning & nationally recognized Chicago web design firm. They carefully analyze each client's wants, needs, and gain a thorough understanding of a brand's business model and objectives to carefully craft a unique strategy to surpass their goals. Olive Street Design is full of cool, hardworking professionals – and they know the brands that they work with are, too.
12. RBD Digital Marketing Agency
RBD is a Digital Marketing Agency that provides Custom Website Services, Search Engine Marketing, SEO Optimization and Social Media Marketing that innovate and help businesses grow. RBD works hard to turn each client's vision into a reality and make sure that their site is top-shelf. They believe that innovation is the future and it begins with them.
13. Social Link
Social Link's custom inbound marketing strategy planning includes services like web design, search engine optimization, PPC management, graphic design and mobile optimization. They help clients to generate more leads with their virtual marketing department.
14. Strategic and Creative Marketing Inc.
Strategic & Creative Marketing is a full-service marketing firm that provides complete marketing plans, including Advertising, Branding, PR, Print, Video Production, Digital/Social Media Marketing, Website Design and Recruitment Marketing. The agency works with clients to achieve their business goals on time and within budget.
15. TechBear.com
Professional, efficient and collaborative, the TechBear team specializes in WordPress websites, marketing and social media campaigns, graphic design work and more. The company that provides exceptional quality for a fraction of the price, TechBear can take any company to the next level, regardless of if they are established or growing.
16. Think PR
Think PR is a creative PR, SoMe and communications agency in Copenhagen, Denmark, working across Europe with a strong digital reputation. They are a dedicated workforce that through a close and trusting relationship with customers, provide efficient, focused and competent advice. Think is social creativity combined with market insight and skilled knowledge.
17. Trademark Productions
Trademark Productions builds custom websites, specializing in WordPress and Magento e-Commerce platforms. Each creation is crafted specifically for every client, adding customized plugins, software integrations, and digital marketing solutions to ensure great business success online. Every web project they produce is custom designed and built from scratch, never a website theme or template.
18. Wegacha
Wegacha gets it. You have a great business idea, but you're sitting at your desk thinking, "Who do I call?" "How do I give this idea life?" Wegacha was there ten years ago. In their bellies, they felt the fire. And they know that a good business takes time to grow. Wegacha are thinkers, dreamers, doers, storytellers and hackers with a cause that will guide clients through this new journey into the digital world.
19. Wild Wild Web
Wild Wild Web is a digital agency that arose from the professional evolution of a team devoted to design and digital marketing. Their specialization is offering total online solutions, from brand creation to online marketing strategies. They have over 20 years of experience in web development, interface design, usability, SEO, digital strategy, social media, branding, editorial design, packaging, photo and animation.
20. YellowFin Digital
As an award-winning design agency, YellowFin Digital sets itself apart from the competition in website design, SEO and digital marketing. With years of experience in digital marketing and understanding the pains that come with growing a small business, YellowFin Digital's team knows how to get results!
Brands can view the best social media marketing firms by price, portfolios, reviews, leadership, expertise, rankings and more on DesignRush.
About DesignRush: DesignRush.com is a B2B marketplace connecting brands with agencies.
DesignRush features the top agencies around the world, including the best Digital Agencies, Logo Design, Branding, Digital Marketing, Website Design, eCommerce Web Design Companies, and more.