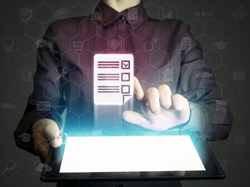 CRANFORD, N.J. (PRWEB) October 09, 2019
Recent studies have found that businesses lose anywhere from 20 to 30 percent of their revenue due to inefficiency.
But doForms.com -- affordable, easy-to-use mobile forms that help small businesses, mid-sized organizations and enterprises build custom forms for mobile data collection and more -- determined how mobile forms can help companies of all industries improve efficiency and achieve revenue growth.
doForms determined that tasks of all natures could be automated through real-time mobile forms. These include:
1. Task management.
2. Lead generation and management.
3. Customer support.
4. Invoicing.
5. Data and information collection.
And this workflow automation brings exponential business benefits, such as:
1. Reducing Multi-Tasking
Many workplace professionals might believe that the ability to multi-task is coveted – but in fact, switching between tasks can cost companies 40 percent of their overall productivity. Mobile forms can reduce multi-tasking by automating information gathering and storage, allowing employees to focus on their high-level tasks.
2. Ensuring Secure Data Collection and Storage
Mobile forms are held to the highest online security standards. For instance, doForms is completely compliant with HIPPA requirements, making it an excellent and safe choice for healthcare providers and patients. In addition, digitally stored files are reliably stored, protected from real-world damage like flooding and fires.
3. Improving Efficiency
Mobile forms can improve internal productivity. Businesses can collect information quickly, easily and without manual effort, and store or send those documents safely with one click of a button. Additionally, mobile forms can minimize errors, improve security, and free up team members' time so they can focus on bigger tasks that drive the company forward into stronger revenue growth.
4. Developing Reliable, Fast Data Collection
Mobile forms are reliable ways to capture real-time relevant information. By adhering to strict cybersecurity standards and automizing data collection, companies can improve customer service, analyze data and draw conclusions, and use the information to continually improve the business.
doForms, in particular, provides reliable mobile forms that can help clients:

Collect and access data securely from any device
Customize forms to collect the information they truly need
Reduce form errors by automating the process
Respond to customers in a timely manner
Read the full report here: https://www.doforms.com/mobile-forms-workflow-automation/
About doForms:
doForms Inc. is a leading provider of rapidly developed end-to-end mobile forms software. These end-to-end solutions let users digitally capture information in the field, which then syncs into back-office systems in real-time. By streamlining field-data collection, organizations across a multitude of industry verticals can respond more rapidly, accurately, and effectively to customers. doForms mobile forms are currently simplifying field-data collection, collaboration, and analysis for tens of thousands of users worldwide. For more information, visit doforms.com.