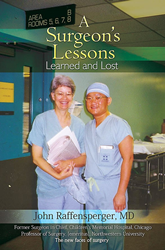 "A compelling and candid account of how surgeons learn…their skills. John Raffensperger shares…advances in medicine and surgery, the faults in today's system, what we might learn from health care systems in other countries, and the pitfalls of hospital politics." – Di Saggau, Island Sun newspaper
FORT MYERS, Fla. (PRWEB) April 07, 2020
"A Surgeon's Lessons, Learned and Lost" details how doctors in the mid-20th century learned medicine the old-fashioned way – in the autopsy room, the laboratory, and at bedside – training to become well-rounded general physicians.
Chicago pediatric surgeon John Raffensperger presents his own personal story of medical education, the practice of surgery, and the failure of today's system for delivering complete medical care. His professional experiences from the 1950s to 2015 illustrate how medicine has changed from a personal, caring doctor-patient relationship to an impersonal business, depending on X-rays and blood tests, rather than listening to patients and the "laying on of hands." Medicine has become a de-personalized business, subject to decisions by insurance executives and hospital administrators.
"From the minute I began to read, I couldn't put the text down. As a general surgeon, I was fascinated by the story telling of how a young medical student learned to take a patient's history and perform a physical exam, and reminded of those same times in my own medical school training where a master clinician would often make us students look stupid. I was drowned, again, in the memories of attending physicians asking me questions I couldn't answer. I remember vividly those times where I had read about a disease, but couldn't, for the life of me, remember the name of the medication used to treat the disease." – 5-Star Amazon Review
"Medical education was at a major turning point with the introduction of many new 'scientific' advances, while at the same time having limited success in such areas as cancer. For example, anatomy was a year-long process and a student's cadaver became a significant learning tool in understanding the human body and its possible defects. From cranial nerves, to the nerve, muscle, tendon, ligament, bone complexes, the physician could hopefully understand the body of a patient as an integrated system. This has changed with some anatomy instruction being done 'online,' thus missing the fact that no two bodies are unique." – Dr. Terrence McGarty, Florham Park, New Jersey
"A compelling and candid account of how surgeons learn and refine their skills. John Raffensperger shares successes and failures, advances in medicine and surgery, the faults in today's system, what we might learn from health care systems in other countries, and the pitfalls of hospital politics." – Di Saggau, Island Sun newspaper, Santiva/Captiva Florida
"A candid narrative of more than 40 years in practice and teaching of a pioneering pediatric surgeon, infused with historical perspective of medical education and medical practice … Dr. Raffensperger has done it all over those years, developing new procedures, teaching medical students and residents at the bedside, serving as surgeon-in-chief at a leading center for pediatric surgery, the Children's Memorial Hospital in Chicago, and authoring books … His concern for patients' welfare shines through the book as he calls for fundamental reforms based on a single payer national health insurance." – John Geyman, MD, Professor Emeritus of Family Medicine, University of Washington, Seattle
About the Author: "In the field of contemporary health care, it is generally acknowledged that Dr. John Raffensperger is one of the most eminent pediatric surgeons of our day… We are now lucky to see him produce a memoir … the portrayal of a life devoted to the care of sick children … The whole is permeated by a welcome candor … but also the callous insensitiveness of administrators and board members, more attentive to budgetary financial buoyancy than to measures that would allay pain and suffering in patients." – F. Gonzalez-Crussi, MD, Emeritus Professor of Pathology, Northwestern University, Chicago
"This book will be insightful not only for doctors, but for patients alike, who all need to become advocates for our healthcare system." – Robert Fletcher, CEO of Strategic Book Publishing and Rights Agency
A SURGEON'S LESSONS, LEARNED AND LOST (ISBN: 978-1-949483-80-2) is now available for $14.95 and can be ordered through the publisher's website:
http://www.sbprabooks.com/JohnRaffensperger or at your favorite book seller.
WHOLESALERS: This book is distributed by Ingram Books and other wholesale distributors. Contact your representative with the ISBN for purchase. Wholesale purchase for retailers, universities, libraries, and other organizations is also available through the publisher; please email bookorder@sbpra.net.