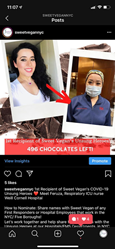 "As a small business owner, left with our own uncertainties, I have had to kick back into gear and am giving back to our community heroes with the gift of pure chocolate which serves equally as a treat, a satisfying boost of energy and always made with love."
NEW YORK (PRWEB) April 27, 2020
Sweet Vegan is the plant-based, allergy-friendly chocolatier giving away sweet rewards to those who are working hard to keep the city safe.
Chef Andrea Young of Sweet Vegan has been thinking and brainstorming of how her small business could share its chocolates with all the unsung heroes that are working around the clock to save lives.
She realized that while no words could express her utmost gratitude for those on the frontlines and all their sacrifices during these unstable times, her sweet actions would come in handy. It's why Sweet Vegan has chosen to distribute 500 chocolates to all the heroes working so hard for their communities.
This health-conscious chocolate company wants to get the entire community involved and hear from you. Perhaps you know of an unsung hero at your local hospital who deserves a thank you of handcrafted chocolates. Sweet Vegan wants to share your story. What's a better reward for an unsung hero at the end of a long day than chocolate?
"Sweet Vegan Chocolates saw the need to take action and support our currently overburdened first responders," she said. "As a small business owner, left with our own uncertainties, I have had to kick back into gear and am giving back to our community heroes with the gift of pure chocolate which serves equally as a treat, a satisfying boost of energy and always made with love."
The chocolatier crafts its delicious truffles without using any dairy or other animal products. According to Chef Young, this helps open up the chocolate's full flavor profile. Because these confections are also free of soy, gluten and nuts, they inspire chocoholics everywhere.
Sweet Vegan is best known for its Dreamy Bites made with smooth and velvety ganache and blended with subtle notes of flavor and dipped in dark chocolate. They come in four flavors: Luscious Lemon, Spicy Ginger, Energizing Espresso and Midnight Passion.
There's still time to make sure these 500 chocolates don't go to waste. Share your story with Sweet Vegan on social media with @sweetvegannyc on Instagram, Facebook and Twitter or reach out through the website, http://www.SweetVegan.nyc.
About Sweet Vegan: Founded in 2019, Sweet Vegan grew out of Andrea Young's love of creating healthy and delicious treats. She learned her way around the kitchen at a young age growing up in the midwest with a large family and a single parent. As the oldest daughter of five, Young was responsible at age 6 to assist making meals. Her grandmother instilled in her the value of making everything look beautiful. Years later after careers in architecture and interior design, Young became her mother's caretaker and hired a personal chef to prepare vegan meals to aid in her healing. Working alongside the chef in her own kitchen brought her right back to her youthful days of cooking. Soon after, she decided to enroll in The Natural Kitchen Cooking School and graduated in 2008.