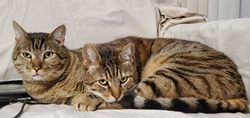 "That means, with just one gift, you'll spread all the good feels to an adopter," Julie Castle, CEO, Best Friends Animal Society
KANAB, Utah (PRWEB) April 26, 2019
When Marina Barton walked into the Best Friends Lifesaving Center in Mission Hills last July, she knew she wanted to open her heart and her home to two adult cats.
Since there weren't any bonded pairs, Barton fell in love with Barclay and Chance, two tabby bachelor boys, and hoped they'd eventually form the classic bromance.
Almost a year later, the two are best buddies who snuggle, play, and thoroughly enchant their mom. "It felt like a big risk that Barclay and Chance would get along, but they're inseparable now," Barton said.
What she didn't know that fateful day was that someone had paid for Barclay and Chance's adoption fees through Best Friends' Pay It Forward campaign. Upon hearing the news that her adoptions were free, Barton immediately opted to Pay It Forward herself.
"I was very excited to help out another cat besides the two I was taking home," she said. "I had chosen Best Friends because I believed they were helping as many pets as possible and Pay It Forward reassured me that I made the right decision."
Best Friends is asking pet lovers to help create happy adoption stories like Barclay and Chance's this weekend, April 26 to 28, just in time for International Pay It Forward Day on April 28. Each $25 donation will cover or discount the adoption fee of a homeless dog or cat from Best Friends or one of its Network Partners across the country.
"That means, with just one gift, you'll spread all the good feels to an adopter – and help a pet in need go home at the same time. It's a win-win," said Julie Castle, chief executive officer of Best Friends Animal Society.
More than 300 Best Friends' Network Partners are also running Pay It Forward donation campaigns during that time, allowing pet lovers to support their local shelter or rescues.To make a Pay It Forward donation, see a list of participating Network Partners, or find out more about Best Friends Animal Society, visit http://www.bestfriends.org.
About Best Friends Animal Society
Best Friends Animal Society is a leading national animal welfare organization dedicated to ending the killing of dogs and cats in America's shelters. In addition to running lifesaving programs in partnership with more than 2,600 animal welfare groups across the country, Best Friends has regional centers in New York City, Los Angeles, Atlanta and Salt Lake City, and operates the nation's largest no-kill sanctuary for companion animals. Founded in 1984, Best Friends is a pioneer in the no-kill movement and has helped reduce the number of animals killed in shelters nationwide from an estimated 17 million per year to about 800,000. That means there are still nearly 2,200 dogs and cats killed every day in shelters, just because they don't have safe places to call home. We are determined to bring the country to no-kill by the year 2025. Working collaboratively with shelters, rescue groups, other organizations and you, we will end the killing and Save Them All. For more information, visit bestfriends.org.
To become a fan of Best Friends on Facebook, go to Facebook.com/bestfriendsanimalsociety. Follow Best Friends on Twitter (@BestFriends) and Instagram (@BestFriendsAnimalSociety).