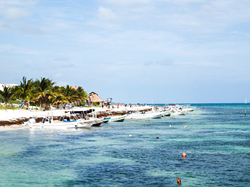 "If the first few months of 2020 has demonstrated anything, it's that you never know where the next black swan will land,"
BALTIMORE (PRWEB) March 17, 2020
With the coronavirus scare keeping people inside and a volatile stock market unraveling nest eggs, it's a smart time for retirees to consider creative income options that can help provide a measure of stability in an uncertain world. A new report from the editors at International Living lists of 50 ways savvy retirees have found to make money in retirement—many of which can be done from home.
"If the first few months of 2020 has demonstrated anything, it's that you never know where the next black swan will land," says Jeff Opdyke, editor of The Savvy Retiree and contributor to International Living. "Over the past 20 years, we've seen a black swan take out the technology sector, killing the stock market; a black swan take out the U.S. housing market, killing the stock market; and a black swan masquerading as the coronavirus, again taking out the stock market.
"The common denominator here is 'taking out the stock market.' And that means it's up to us to learn how to take back control of our own lives, of our lifestyles and our personal happiness.
"Retirement once was built on the three-legged stool of Social Security, personal savings, and company pensions. But pensions, we all know have basically vanished, and these black swans keep undermining our personal savings. Which means if we want to shore up the stability of our retirement finances, we need to bolt a new leg onto the stool. And that new leg is our ability in the technology age to exploit the gig economy to our own benefit."
A new report from Internationalliving.com lists 50 ways retirees have found to make money in retirement—many of which, from freelance proofreader to dropshipper to e-book publisher, can be done from a laptop at home.
The full report is posted here and includes suggestions like:
Teach English Online
Native English speakers may not realize it, but they already possess the number one qualification needed for a fun, portable income that can produce a steady paycheck from anywhere in the world.
English teachers are in huge demand right now with students across the globe studying from home due to Coronavirus. And that means huge opportunities for English teachers. Teaching English as a foreign language jobs are available in virtually all countries where English is not the first language. And right now, there's extraordinary demand for teachers online. With so many children home from school right now—parents are taking this opportunity to source native English speakers as teachers and tutors online. This opportunity is hot right now.
Become an In-Demand Copywriter
Anyone who's dreamed of being able to live and earn a great income from anywhere––could be a house by the sea in Latin America, an historic European city, or even a Greek island for a summer…
...then copywriting might fit the bill. It's all about persuasion. Website copy, ads, blog posts, and more—a persuasive copywriter aims to make an argument that'll have a reader taking action. This kind of writing can pay six figures. Take that kind of income to a low-cost spot on the planet where the quality of life is high and the weather is good, and it's a prescription for a comfortable retirement.
Become an Audiobook Narrator
Audiobooks are an increasingly popular form of entertainment. The convenience factor of smartphones has led to an industry boom. The Association of American Publishers reported a 38.1% increase in audiobook downloads in 2015…and that's creating a demand for freelance narrators.
Narration is a job that anyone can do, regardless of age or experience. It's flexible, portable, and, above all, fun. Plus it's easier to break into than many people imagine.
The full report can be found, here: 50 Ways to Make Money in Retirement
Editor's Note: Members of the media have permission to republish the article linked above once credit is given to Internationalliving.com
Further information, as well as interviews with expert authors for radio, TV or print, is available on request. Photos are also available.
For information about InternationalLiving.com content republishing, source material or to book an interview with one of our experts, contact PR Managing Editor, Marita Kelly, +001 667 312 3532, mkelly@internationalliving.com
Twitter: @inliving
Facebook: https://www.facebook.com/International.Living/
About International Living
Since 1979, InternationalLiving.com has been the leading authority for anyone looking for global retirement or relocation opportunities. Through its monthly magazine and related e-letters, extensive website, podcasts, online bookstore, and events held around the world, InternationalLiving.com provides information and services to help its readers live better, travel farther, have more fun, save more money, and find better business opportunities when they expand their world beyond their own shores. InternationalLiving.com has contributors traveling the globe, investigating the best opportunities for travel, retirement, real estate, and investment.