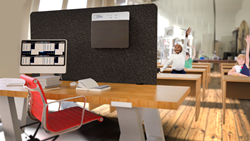 According to the EPA guidelines https://www.epa.gov/coronavirus/air-cleaners-hvac-filters-and-coronavirus-covid-19, "When used properly, air cleaners (also known as air purifiers) and HVAC filters can help reduce airborne contaminants including viruses in a building or small space."
ORANGE, Calif. (PRWEB) August 12, 2020
How to return to school safely: Clean Zonez™ http://www.cleanzonez.com
Zonez http://www.zonez.com, a division of Allied Modular http://www.alliedmodular.com, which has more than 30 years of experience, is announcing the launch of its patent pending Clean Zonez panels and air filtration system.
As the transition back into the classroom begins, it is important to provide solutions that enhance the safety of educational facilities. School districts are looking for practical and functional solutions that make this possible. Clean Zonez http://www.cleanzonez.com has launched an innovative, patent pending system to solve this problem.
Functionality meets practicality with the new Clean Zonez panels. The first of its kind product features a state-of-the-art air filtration unit placed inside of an acoustical panel, providing both clean air and a physical barrier. Sande Golgart, President of Zonez http://www.zonez.com, says, "It is important to treat the air where it is exhaled, coughed, or sneezed into the shared air. HVAC systems are simply not designed to do this."
How they work:
Intake fans pull air through five layers of air filtration including HEPA filtration and UV-C sterilization. Clean air is then pushed out through the exhaust fan to release fresh, filtered air.
Additionally, the panels act as a physical barrier between faculty and students, lowering the risk of person-to-person transmission. The PET panels absorb noise to minimize distractions, and adjustable desk clamps allow the unit to be attached to virtually any existing desk or workstation.
Golgart also noted, "The air we breathe is the most shared resource inside any educational facility. Adding air filtration systems to classrooms and faculty lounges enhances the safety of faculty, staff, and students."
With an increased focus on social distancing and clean air in any collaborative environment, Clean Zonez http://www.cleanzonez.com is meeting the needs of many different industries across the county with their innovative solutions. A variety of sizes, colors, and products make it easy to find the best solution for any classroom environment.
Zonez currently operates out of three facilities across the country.
For interview requests, please contact sales@zonez.com
For more about the innovative Clean Zonez solutions or to request a spec sheet, click here: https://cleanzonez.com/