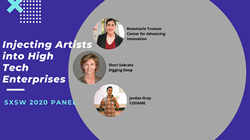 The Center for Advancing Innovation (CAI) announces a ground-breaking panel session at South by Southwest (SXSW) to ignite a conversation about how we can better integrate artists into high-tech startups
BETHESDA, Md. (PRWEB) March 04, 2020
The Center for Advancing Innovation (CAI) announces a ground-breaking panel session at South by Southwest (SXSW) to ignite a conversation about how we can better integrate artists into high-tech startups. Involving artists in high-tech startups cultivates and nurtures "art spirit", driving creativity and disruption, solving puzzles and changing boundaries, and ultimately making startups poised for sustainable success.
We're inviting people passionate about how art and technology can intersect and make the tech industry more diverse, inclusive, and dynamic. Panel participants include Sheri Sobrato, Co-Founder of Resonance Philanthropies, Jordan Gray, Co-Founder of CODAME, and Rosemarie Truman, Founder and CEO of CAI. The session will take place on March 15th, 2020 from 5pm-6pm CST in Salon K at the Hilton Austin Downtown (500 E 4th Street). If you can't make it in person join in on the conversation with the hashtags #ArtTechSXSW
Panelists from CODAME and CAI engage artists and high tech through their respective initiatives. With support from the Walton Family Foundation, CAI is leading the first initiative to systematically unite artists with both government IP and high-tech entrepreneurs.
For 10 years CODAME has inspired technologists to value creativity and provided artists with potent opportunities. They spark visionaries through inclusive workshops and an annual ART+TECH Festival. "Creative play in our workshops forges new social and neurological connections," said Jordan Gray. "Innovation comes from those fresh eyes going back to daily roles."
Sheri Sobrato of Resonance Philanthropies is the visionary behind Shadow's Edge, a free mobile game that helps teens and young adults facing chronic or serious illness. The app builds emotional resilience by having players express themselves through art, particularly graffiti. Sheri Sobrato said, "Art moves us beyond our limitations, makes us feel, and inspires empathy. Art can bring us to new levels, if we invite art into our lives and artists into our projects."
Rosemarie Truman commented, "The artists that have been the most involved in their respective startups have proven to outperform others. We look forward to revealing some hard facts about the impact and outcomes that occur when artists are involved in high-tech startups."
Few organizations have successfully implemented a formula for injecting artists into high tech. We'll discuss the secret sauce and value add that comes from marrying artists with tech!
ABOUT CAI:
The Center for Advancing Innovation (CAI) is a global public-private partnership, non-profit focused on creating a virtuous circle of innovation and driving growth breakthroughs through novel, creative paradigms and models. CAI's mission is to accelerate and increase the volume of technology commercialization to ignite entrepreneurship, bolster the global economy, and maximize the potential of promising inventions. CAI's award-winning challenge-based accelerator, rigorous evidence-based due diligence, and capital-efficient lean management models serve to hyper-accelerate "gazelle" high-performing startups for outsized investor returns. For additional information about CAI, please visit http://www.thecenterforadvancinginnovation.org and follow us on Facebook and Twitter.
ABOUT RESONANCE PHILANTHROPIES:
Resonance Philanthropies is a donor advised fund of Silicon Valley Community Foundation with the primary funding interests in Children's Health and Plastic Pollution. The Fund supports the interests of its co-founders, Sheri Sobrato and Eric Brisson. Resonance House, one of the philanthropic funds, developed Shadow's Edge, the fist-ever free mobile game designed to build emotional resilience in young people facing health challenge. http://www.shadowsedge.com.
ABOUT CODAME:
As members of Intersection for the Arts, a 501(c)(3) non-profit organization, CODAME shapes the future by building ART+TECH project explorations and inspiring experiences. CODAME events, installations, and workshops connect people of all specialties and backgrounds. Join us to continue the visionary celebration, running since 2010. You can learn more about CODAME on http://codame.com/.