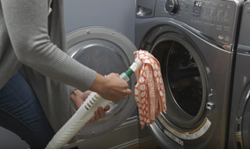 ARCOLA, Ill. (PRWEB) March 31, 2020
Cleaning tools can harbor dirt, grime and even bacteria, so be sure to clean them regularly and properly to remove dirt and debris, and so they can be most effective. The Libman Company, a 124-year old U.S. manufacturer of household and commercial cleaning products, offers the following tips.
Mops
First, determine what type of mop you have. Mops with detachable mop heads such as cotton deck mops and microfiber mops like the Libman Wonder Mop can be removed and put in the washing machine. Be sure to wash them alone without any clothing, bedding or towels. If you have a sponge mop, it's best to soak it in a mix of water and your favorite cleaning solution or bleach for at least 30 minutes.
Brooms
Your broom picks up a lot of dust and debris. Preferably, after each use, take your broom outside and knock it against the house or a wall to loosen debris. You can also run an old comb over the bristles to catch more dust. The Libman Step On Dustpan has teeth molded into dust pan that remove debris from broom fibers. Consider cleaning your broom at least once a month by soaking the broom in a solution that contains warm water and dish soap. Rinse the broom and let it dry before you use it again.
Sponges
There are a few ways to clean sponges. According to the United State Department of Agriculture (USDA) microwaving sponges kills 99.99999 percent of bacteria present on them, while dish washing kills 99.9998 percent of bacteria.
To microwave your sponge, first be sure it doesn't have a metallic scrubbing bottom (you'll need to use another form of cleaning for these sponges). Make sure the sponge is wet otherwise it could catch on fire. Microwave on high for one minute. To clean your sponge in the dishwasher, make sure you set it to the longest and hottest cycle. Be sure use the dry cycle.
Another option for cleaning sponges is to soak them in a bucket full of warm water mixed with ½ teaspoon of bleach for one minute.
Libman recommends cleaning your sponge once a week.
Toilet Bowl Brush
Fill a bucket with hot water and add ½ to a teaspoon of bleach to the water. Place your toilet bowl brush in the bucket and let it soak for an hour. Then take out the brush and rinse it with hot water. Let the brush air dry before placing it back in the holder. You can also clean the toilet brush holder this way.
Buckets
Fill the bucket with hot water and add either bleach or pine oil (read label directions for amount needed). Swish around the liquid for several minutes and let sit for five minutes. Dispose of bucket contents and let the bucket air dry.
Dusters
To clean your microfiber, feather or wool duster, first be sure to remove the dirt and dust by taking the duster outside and banging on the side of the house or a fence post. You can hand wash the duster by placing it in a bucket of warm water and a splash of liquid dish soap. Gently massage the duster and rinse with warm water. Let the duster air dry.
For more useful cleaning tips, visit http://www.libman.com.
About The Libman Company
The Libman Company is a family-owned company that has been making quality cleaning tools since 1896. The company manufactures products from brooms and mops to more specialized tools for kitchen and bathroom cleaning and industrial uses. Libman proudly manufactures most of their products in the United States, including the company's well-known Wonder® Mop. For more information about the Libman Company, please visit http://www.libman.com.