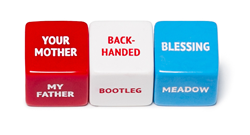 The hardest part of writing poetry is getting started. Metaphor Dice make it hard to stop.
BROOKLYN, N.Y. (PRWEB) March 09, 2020
Poet and teacher Taylor Mali still remembers the metaphor and poem that a student crafted for herself from a list of words he had written on the blackboard.
My father is a broken mirror,
which is to say he's always been
hard to handle without cutting yourself.
He's been shattered into a thousand pieces,
but in every one I can still recognize
my own reflection.
That poem written in 2017 convinced Mali that he needed to invent some sort of game or activity to quickly generate thousands of unique metaphors. "I wanted to replicate her experience for others without having to waste valuable time writing lists of words on the board or talking about the different parts of speech that make up a metaphor."
Fast forward three years and Metaphor Dice is what he came up with, a writing prompt dice game, which is available on Amazon and was recently featured on the NPR podcast How I Built This. There are now two editions, the original 12-dice Starter Set, and a 9-dice expansion set which is nicknamed the "Erudition Edition" because of its slightly more challenging vocabulary (see below).
Underling both sets of dice is the understanding that metaphors are really just equations between nouns, adjectives, and objects. "Every human culture that has ever lived has developed some kind of metaphorical language to help us talk about and understand the big ideas in our life," Mali says. We comprehend difficult ideas by comparing them to smaller objects. Metaphors essentially say, "Pretend this concept is equal to this thing. What is Death? Death is a flawed miracle!"
Hailed by teachers as "a game changer for teaching creative writing," Metaphor Dice have found their way into classrooms. Even teachers and schools who cannot afford the dice have been able to receive a set as a result of the generosity of ordinary people. Anyone who visits the Metaphor Dice website has the opportunity to buy a set for a teacher they do not know. To date, almost 1,000 sets have been sent out this way.
CRAVEN vs. FECKLESS
After the success of the first set in 2018, Mali decided that the next step should be an expansion set containing slightly bigger and more challenging words. "I have a lot of followers who are teachers just like me," Mali says. "And I guess they just wanted to make the process a little more of a learning experience." Not every word will send you to the dictionary, however, "because that would quickly kill the joy of rolling dice and feel more like homework. Some are big vocabulary words, but the rest are just quirky and wonderful."
What about you? If you rolled the following metaphor, "My family is an obstinate junkyard," what would you write next? What treasures have you found among the scrap? What are the hours of operation? And what dog wanders the fence line each night by moonlight?