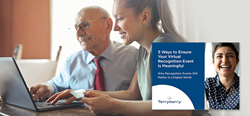 9 in 10 leaders say recognition has even more impact now, but 70% say it's also more difficult.
GRAND RAPIDS, Mich. (PRWEB) November 13, 2020
Many organizations are re-evaluating how to conduct their recognition events in light of safety concerns or budget constraints. Even though the way we get together has changed, Terryberry says now is not the time to hold back when it comes to recognizing the people most responsible for keeping you in business. Virtual recognition events can be a great option - if you do them well.
Recognition still matters, whether employees are together in person or working remotely. In fact, a Terryberry survey revealed that 90% of leaders believe recognition is more important in these trying times. 2020 has been a challenging year for many organizations, but it's also important to remember that it's been a challenging year for your people as well. With that in mind, simply canceling or even postponing these important recognition events seems short-sighted. Employees need to feel energized and aligned with their employer more than ever.
Terryberry has some tips on how to create a virtual recognition event for employees that instills meaning and purpose in their work.
First, align your virtual event around your culture. When employees are aligned on values and purpose, it leads to better retention than higher pay or perks like food or ping pong tables. Every employee counts, especially when we are all asking more of them.
Focus on what the award recipients want. We know that focusing on the types of recognition people want supercharges the effect. An avid cook appreciates a special pan he has had his eye on more than cash, and a superfan appreciates a new piece of memorabilia for her collection more than a Starbucks gift card. We also know some people like very public recognition in front of family and friends while others prefer a more private thank-you. While an in-person event may already account for this, remember this is still true in virtual formats.
Make the thought count. As organizations navigate uncertainty and disruption, your people really appreciate the thought you put into your actions and it helps build trust in the organization.While award travel or experiential awards may be out this year, consider alternatives like a virtual shopping spree or other ways that something tangible can help close the recognition loop with employees.
For organizations looking for more ideas, Terryberry's eBook "5 Ways to Ensure Your Virtual Recognition Event Is Meaningful" provides actionable ways you can embed meaning into your virtual event.
About Terryberry
Everyone deserves to feel seen and recognized in a meaningful way. When you do that in ways that are as unique as your people and culture, you unlock a shared aspiration and an unstoppable team.Terryberry is your partner to create a purpose-led, engaged organization through the power of recognition. We understand the challenges you face and meet you where you are to get you where you want to go. Whether it's a small step toward a big vision driven by our flexible, comprehensive recognition platform or a big step toward a complete solution that increases engagement, we'll help you accomplish your goals — together. Headquartered in Grand Rapids, Michigan, Terryberry is online at http://www.terryberry.com.