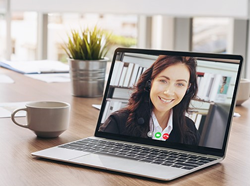 The shift away from standard phone calls to multi-media collaboration platforms like Zoom and Microsoft Teams accelerated with COVID-19. How is the compliance and monitoring keeping pace?
HOBOKEN, N.J. (PRWEB) July 16, 2020
Messaging Architects, an eMazzanti Technologies Company and information governance consultant, shares how to maintain compliance recording in the age of Zoom and Teams calls in a new article on the Messaging Architects website.
The informative article reviews the migration of business calls from PBX phone systems to cloud-based collaboration platforms such as Zoom and Microsoft Teams. The author then discusses the capabilities of Microsoft Teams Policy-based compliance recording, including recording categories, user needs, and recorder bots.
"The shift away from standard phone calls to multi-media collaboration platforms like Zoom and Microsoft Teams accelerated with COVID-19," stated Greg Smith, Vice President of Services Delivery at Messaging Architects. "How is the compliance and monitoring keeping pace?"
Below are a few excerpts from the article, "How to do Quality Control and Compliance Recording in the Age of COVID-19, Zoom and Teams."
"We have all heard it. 'This call may be monitored for quality assurance or compliance purposes.' Indeed, companies in various industries, including commodity brokerage, stocks, and investment management organizations, include compliance recording in their normal operations."
Integrated Voice, Video and Recording
"Many systems operate with separate phone and video conferencing systems, offering little integration between the two. But more and more providers integrate voice and video in a single solution. Microsoft provides its Teams collaboration platform with capabilities to integrate voice and call compliance recording into the solution for a unified experience."
Teams Policy-Based Compliance Recording for Calls and Meetings
"Policy-based recording enables organizations that adopt Microsoft Teams to specify when calls and online meetings should be automatically recorded for processing and retention. Enhanced to support the integration of third-party recording solutions like Conversant, Teams enables an end-to-end collaboration/call/recording platform."
Modern Compliance Recording
According to Microsoft, less than 25% of recording users work in regulated organizations. Yet, recording remains critical to every aspect of the deployment. And the organizations must continue to record existing processes. Hence, integrated Teams recording provides a modern solution.
With IT challenged to balance competing pressures and existing systems often expensive to operate, the ideal integrated compliance recording solution balances affordability, compliance, security, and privacy. Business leaders look to Messaging Architects information governance experts for guidance on the best recording compliance solutions for their organization.
Have you read?
Navigate the COVID-19 Digital Transformation with Solid Information Governance
How to Choose the Best Cloud Archiving Solution
About Messaging Architects
Messaging Architects specializes in effectively managing and securing an organization's most precious asset, its information. With over 20 years of information management and technology consulting experience, the Messaging Architects team has provided corporations, educational intuitions, health care facilities and nonprofits with methodologies, procedures and technology to keep their data organized, compliant and secure.
About eMazzanti Technologies
eMazzanti's team of trained, certified IT experts rapidly deliver increased revenue growth, data security and productivity for clients ranging from law firms to high-end global retailers, expertly providing advanced retail and payment technology, digital marketing services, cloud and mobile solutions, multi-site implementations, 24×7 outsourced network management, remote monitoring and support.
eMazzanti has made the Inc. 5000 list eight consecutive years, is a 4X Microsoft Partner of the Year, the #1 ranked NYC area MSP, NJ Business of the Year and 5X WatchGuard Partner of the Year! Contact: 1-866-362-9926, info@emazzanti.net or http://www.emazzanti.net Twitter: @emazzanti Facebook: Facebook.com/emazzantitechnologies.