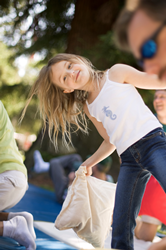 "Play is still a prime way of connecting with our children, and our tween children still need that connection with us. One of the things that makes tweens so grumpy is they are not getting to connect in playful ways as much as they get older." Patty Wipfler, Founder of Hand in Hand Parenting
PALO ALTO, Calif. (PRWEB) January 16, 2019
Parents of young children have enjoyed the insight and support shared by Hand in Hand Parenting for a generation and now that same care and practical problem-solving is being applied to the many new issues faced by parents as their child grows into the Tween years.
Tweens are at an age where they are breaking away into independence, and many are more sensitive to what peers and outsiders think of them. Adding flames to this fire are the hormones that are kicking in.
With all of these added pressures, tweens will use their parents – and the limits they set – as something to butt up against. A way to let fly on all the injustices and unfairness they might feel, collect, and stuff down until a parent insists on a limit – like no phones at the dinner table – that allows them to offload.
Tween outbursts can be loud. They can be in your face. They can include shouting and loud crying. And all of this is normal. But it's not easy. Parents of tweens may need additional stress relief, support, and opportunities to get a break from the day-to-day demands of living with tweens. Navigating Turbulent Times with Your Tween https://www.handinhandparenting.org/2018/03/navigating-turbulent-tantrums-with-your-tween/
"Parents should understand that play is still really important, play is still a prime way of connecting with our children, and our tween children still need that connection with us. One of the things that makes tweens so grumpy is they are not getting to connect in playful ways." Patty Wipfler, Founder of Hand in Hand Parenting.
Hand in Hand Parenting is a nonprofit resource for parents on the topics of parent stress, challenging behaviors in children, healing childhood trauma, managing aggression, developing sleep confidence, reducing sibling rivalry, and facing separation anxiety. They publish "Listen: Five Simple Tools to Meet Your Everyday Parenting Challenges" and the "Listening to Children" booklets. Over a million copies of their publications have been sold worldwide in 11 different languages.