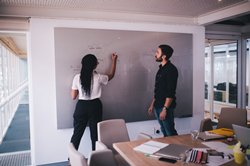 Many have flourished and thrived during these challenging times, especially if the business model was based online. I've asked a panel of several leaders for advice on the subject of how to grow either our network, influence or business in 2021. - Rollis Fontenot III
HOUSTON, Texas (PRWEB) December 28, 2020
If there's one thing that many of us have learned in 2020, it is to expect the unexpected, and to adapt to change quickly. Many of us had lofty goals for 2020 when we were writing them in late 2019, and almost no one predicted what happened shortly after.
Words like pandemic, zoom, virtual, and pivot have a whole new meaning for most of us as we close out 2020. Sadly, there are many that lost family members, workmates or perhaps their own lives to the horrible COVID-19 virus, and we aren't out of the woods just yet.
On a positive note, several sectors and businesses have actually flourished and thrived during these challenging times, especially if the business model was based online or was able to quickly pivot online. 
For example, prior to the pandemic CEO of NightLight Pediatric Urgent Care of Houston, Texas, Zawadi Bryant, said that "our telemedicine volume was a fraction of our in clinic visits.  Once lockdown orders were in place, we saw a sharp increase in our virtual visits.  The pandemic accelerated telemedicine adoption by at least 10X.  Out of necessity, providers and patients realize the convenience and efficiency of telemedicine."
NightLight is an example of a business that pivoted quickly to adapt to changing conditions. We also saw grocery store chains quickly adapt their business model to offering more curbside pickup or delivery options for customers. Large businesses like Amazon, saw record profits and growth as well. Overall, Amazon's revenue increased 37.4% to a record $96.15 billion. Its net income also set a quarterly record at $6.33 billion, an increase of 196.7% over the third quarter of 2019, according to Digital Commerce 360's October article.
Leah Ramsey, Vice President of HR Maximizer, Inc., says, "This is a great time to take a look at your internal growth strategy, from all angles, as the cost to advertise positions on all the major platforms like Google, YouTube, Facebook and Instagram has gone down significantly during 2020. Small to mid sized organizations can now advertise on a similar level as much larger organizations and competitors in 2021."
However, even if our business was not one of those that thrived, perhaps when we run a personal inventory, we find that we:

Learned a new skill (virtual communication platforms, live streaming, a new language, etc.)
Made important new network connections
Discovered something really wonderful about ourselves
At the very least, you have escaped 2020 with your life and health intact if you are reading this article, so congratulations!
The question is, how can we take the information we've learned so far to make 2021 the best year it can be, and perhaps the best year of our lives? 
I've asked a panel of several leaders for one piece of advice on the subject of how to grow either our network, influence or business in 2021.
My esteemed panel includes best selling authors, business leaders, health leaders and talent management experts, here is what they said. 
With all of this great advice coming from our panelists, we hope that it helps you make a great impact on your network, influence or business in 2021.