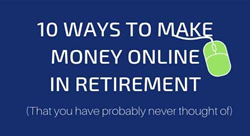 "In this uncertain and volatile time, creating a side income that can be earned with skills a person already has can be a powerful antidote to the feelings of panic and worry that hound so many people today."
BALTIMORE (PRWEB) March 31, 2020
Online today, people of all ages are able to make money in ways that simply weren't possible a decade or two ago. And often incomes can be created without great tech skills or huge up-front investment.
"In this uncertain and volatile time, creating a side income that can be earned with skills a person already has can be a powerful antidote to the feelings of panic and worry that hound so many people today," says Jeff Opdyke, of The Savvy Retiree.
"There's so much we can't control. Yet, by putting in place an income that a person can earn on their own terms from home—and then have to take with them when this craziness passes—that delivers not only income, but a certain peace of mind."
International Living's report details 10 creative, portable ways to make money online in retirement.
1. Internet Research
There's a way to make good money—cold hard cash—surfing the internet in your spare time. In fact, there's an entire industry that wants to pay you up to $50 an hour…And all you have to do is sit at home and check out websites.
Internet research as a job can give you the ultimate freedom and flexibility of self-employment. And the best part about it is, you never have to go to an office…there's no commute…no "boss" breathing down your neck. It can all be done from the comfort of your own home, wherever in the world that home may be. As there's internet access where you are, you have a great, well-paying job.
Winton Churchill, the founder of an international training and consulting company explains "An interesting new income category has emerged, thanks in part to the world of 'fake news.' Companies and individuals are more concerned than ever with fact-checking the information they use on their websites and in their promotional materials. And they're willing to pay someone to make sure it's correct."
2. Sell Your Photos
With the widespread availability of low cost, high-grade digital cameras, photography has become a way to earn an income that's within the grasp of people who don't want to make a significant financial investment, or who don't have a specialized qualification or background.
The beauty of stock websites for photographers is that once they've uploaded a photograph, it can be sold any number of times, to different people, meaning that it can continue to make the photographer money in the background, again and again, without any additional effort.
"Taking pictures of people is what makes up the vast majority of my photography income," says Bonnie Caton, photography expert and founder of Great Escape Publishing's Breakfast Stock Club.
"It's the reason I was invited to Hawaii to shoot a wedding...and to Tanzania to photograph the opening of a new safari camp. It's the reason I've made nearly $900 for one single stock photo of tango dancers...and thousands of dollars taking headshots for friends-of-friends. It's why I can make $1,200 in a day taking photos of a law firm or a massage therapist in her office."
3. Become an Audiobook Narrator
Audiobooks are an increasingly popular form of entertainment. The convenience factor of smartphones has led to an industry boom. The Association of American Publishers reported a 146% increase in audiobook downloads in the five-year period from 2013-2017. In 2020, Deloitte predicts that the global audiobook market will grow by 25%…and that trend is creating a demand for freelance narrators.
Narration is a job that anyone can do, regardless of age or experience. Whether you're just looking to make some extra money or fund a life of travel, freelance narration might be the income for you. It's flexible, portable, and, above all, fun.
Meghan Crawford, who is a freelance audiobook narrator ,explains "My typical 'work day' consists of two to four hours of recording during late morning and early afternoon. I started being my own boss last September. In that time, I have more than doubled what I made at my previous job. Even as a new narrator, you can expect to earn an average of $100 per finished hour—more if your contract is with a larger publisher."
The full International Living report—including 7 additional ways to make money online—can be found, here: 10 Ways to Make Money Online.
Editor's Note: Members of the media have permission to republish the article linked above once credit is given to Internationalliving.com.
Further information, as well as interviews with expert authors for radio, TV or print, is available on request. Photos are also available.
For information about InternationalLiving.com content republishing, source material or to book an interview with one of our experts, contact PR Managing Editor, Marita Kelly, +001 667 312 3532, mkelly@internationalliving.com.
Twitter: @inliving
Facebook: https://www.facebook.com/International.Living/
About International Living
Since 1979, InternationalLiving.com has been the leading authority for anyone looking for global retirement or relocation opportunities. Through its monthly magazine and related e-letters, extensive website, podcasts, online bookstore, and events held around the world, InternationalLiving.com provides information and services to help its readers live better, travel farther, have more fun, save more money, and find better business opportunities when they expand their world beyond their own shores. InternationalLiving.com has contributors traveling the globe, investigating the best opportunities for travel, retirement, real estate, and investment.