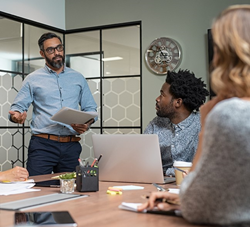 Organizations nursing legacy archiving systems must decide whether to reduce archiving costs by moving legacy archives to the cloud or continue to maintain costly existing systems.
HOBOKEN, N.J. (PRWEB) June 11, 2020
Messaging Architects, an eMazzanti Technologies Company and email migration expert, shares the advantages of cloud archiving, including scalability, increased security, disaster recovery and availability in a new article on the Messaging Architects website.
The informative article discusses how cloud archiving reduces costs by increasing efficiency and reducing IT overhead. The author then compares eDiscovery on the eGovernance Cloud to Advanced Microsoft 365 eDiscovery. He concludes by listing eGovernance Cloud services and benefits.
"Organizations nursing legacy archiving systems must decide whether to reduce archiving costs by moving legacy archives to the cloud or continue to maintain costly existing systems," stated Greg Smith, Vice President of Services Delivery at Messaging Architects.
Below are a few excerpts from the article, "How to Reduce Archiving Costs with eGovernance Cloud."
"Outdated systems rack up costs in several ways, including a lack of technical support, expensive upgrades, and an inability to support today's file types. Furthermore, they bring compliance challenges, require costly additional storage, and lack modern search capabilities."
Reduce Archiving Costs with eGovernance Cloud
"A versatile tool, eGovernance Cloud covers multiple data sources (both local and cloud). Quick search saves expensive resource time. And, its efficient open architecture makes archived data easily exported or migrated."
"With a low fixed fee, the eGovernance Cloud is comparable in cost to Microsoft Archiving with its per user fees. But it incorporates a more sophisticated, easy to use search engine and superior eDiscovery capabilities. Users perform search and export operations in one half to one quarter of the time required by other systems."
Reduce the Pain of Migrating Legacy Archives
The migration experts at Messaging Architects understand not only the challenges of migrating data from legacy email archiving solutions but also the advantages and disadvantages of moving it to the cloud. Through hundreds of legacy and Microsoft 365 migrations and years of working with clients of all sizes, they have streamlined the migration process.
Regardless of the organization's current archiving system, archiving experts will help to extract a complete, defensible data set. They know the roadblocks and have the tools and expertise to overcome them, ensuring a smooth migration to the eMazzanti/NetGovern eGovernance Cloud.
Have you read?
Meet the Smaller Post-COVID-19 Office Space
3 More Microsoft 365 Features that Former GroupWise Users Will Love
About Messaging Architects
Messaging Architects specializes in effectively managing and securing an organization's most precious asset, its information. With over 20 years of information management and technology consulting experience, the Messaging Architects team has provided corporations, educational intuitions, health care facilities and nonprofits with methodologies, procedures and technology to keep their data organized, compliant and secure.
About eMazzanti Technologies
eMazzanti's team of trained, certified IT experts rapidly deliver increased revenue growth, data security and productivity for clients ranging from law firms to high-end global retailers, expertly providing advanced retail and payment technology, digital marketing services, cloud and mobile solutions, multi-site implementations, 24×7 outsourced network management, remote monitoring and support.
eMazzanti has made the Inc. 5000 list eight consecutive years, is a 4X Microsoft Partner of the Year, the #1 ranked NYC area MSP, NJ Business of the Year and 5X WatchGuard Partner of the Year! Contact: 1-866-362-9926, info@emazzanti.net or http://www.emazzanti.net Twitter: @emazzanti Facebook: Facebook.com/emazzantitechnologies.