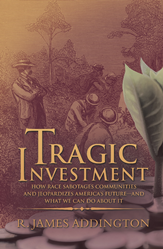 "[Tragic Investment] turns everything you think you know about racial injustice on its ear . . . A paradigm shift showing how economic systems become the social and moral drivers of our culture and how we can counteract that."
SEATTLE (PRWEB) September 23, 2019
Today, we are seeing a resurgence of racial animosity, inflamed by the divisive rhetoric of the Trump administration. In his new book, "Tragic Investment," R. James Addington suggests that the nation's very foundations were racist from its inception – and, that we still experience the effects today. Addington makes some provocative suggestions regarding what we can do to heal the multigenerational damage inflicted in the name of race.
In the book, Addington suggests the nation's original investment in racial oppression damages the nation and hurts us all—people of color and white people alike. He proposes that the "reparations" conversation is about more than an unpaid debt owed to the descendants of enslaved Africans; it is about how we all work to prepare our nation for a challenging future and invest in communities that are equitable, just and sustainable.
As a white man whose late wife was African American, Addington has a unique perspective on our struggle with race. "Being part of an interracial family has helped me discern the deep linkages between race/racism and our national life. Unless we all deal directly and deeply with the impact of racism, our future as a nation is in doubt." This means people of color and white people have work to do, and the book explores in depth the challenging work white people must do.
One Amazon reviewer praises "Tragic Investment": "This book turns everything you think you know about racial injustice on its ear . . . A paradigm shift showing how economic systems become the social and moral drivers of our culture and how we can counteract that."
"Tragic Investment: How Race Sabotages Communities and Jeopardizes America's Future – And What We Can Do About It"
By R. James Addington
ISBN: 9781532070815 (softcover); 9781532070822 (electronic)
Available at iUniverse, Amazon and Barnes & Noble
About the author
R. James Addington has been an antiracism organizer and trainer for the past 27 years. He is currently a training consultant with Crossroads Antiracism Organizing and Training, an organization dedicated to building racial justice in institutions. Previously, he worked as a training and community development consultant throughout the US and abroad, living and working in a variety of nations. To learn more, please visit Addington's website at https://www.rjamesaddington.com.